Move, move, move, that's what kids need- right? It seems to be a growing trend in education. How can I get my kids to settle down and do their work? I'll be giving some of my ideas about what kids need to learn in this blog post using movement props and activities for music class.
MOVEMENT PROPS AND ACTIVITIES
It's true! Kids love animal activities!
Check out this new Movement Activity Video on the Sing Play Create YouTube Channel!
"I Want to Move Like An Animal"
Once the children see the animals, all you'll need is a little bit of space and the movement begins as soon as the music plays.
Children naturally respond to music. You won't have to guide them much during this activity.
I've found that there is high engagement when animals are involved.
For this very reason, I use this song as part of my music class activities.
Specifically, you can add in this movement activity when you are teaching music from Africa, or when you are doing music from around the world. Each animal is set in a different habitat from around the world.
If you're interested in the complete resource with activity ideas and information about the animals habitats, you can find this resource in my TpT store.
RESOURCE INCLUDES:
Animal Moves Presentation
Animal Moves pdf.
Creating a Slide Show Directions
Activity Directions
Activity Rules
Teaching Ideas
Video sing-a-long
Mp3 Vocal and Performance Tracks

HOW DO MOVEMENT PROPS AND ACTIVITIES HELP KIDS LEARN?
Here are my reasons why using movement props and movement activities are essential it is for child development.
Big movements with arms and legs encourages the development of gross motor skills.
Following the movement cues helps students learn to follow directions.
Cross body movement encourages good reading skills. This is called crossing the mid-line.
Directed arm and body motions develops the ability to form letters and shapes and understand directional concepts.
Creative movement encourages artistic learning and to think in a more challenging and creative manner.
It's important to remember that;
physical learners will respond and learn with movement props and activities-
Visual Learners will respond and learn with movement props and activities-
Finally, that movement props and activities help children make and strengthen important brain connections.
Looking for movement props?
SCARVES
STRETCHY BANDS
BEAN BAGS
So, you'll want to check out these blog posts to get more ideas!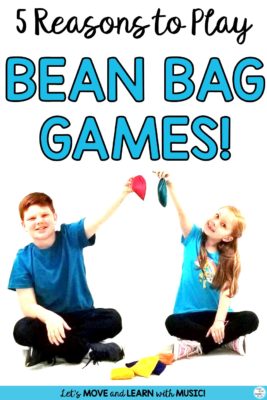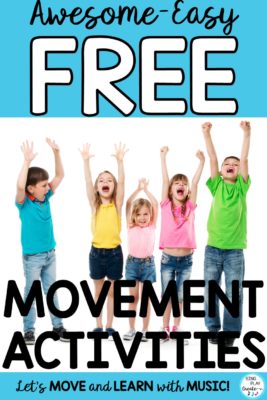 THIS GIVEAWAY IS NOW CLOSED
Don't forget to enter the giveaway!
Overall, I believe movement props and activities in music class solve many classroom management issues and foster learning by connecting to learning goals. I hope you'll give them a try!
Like this post?  Please share it!