Just today a teacher brought her Kindergarten class for music to my door greeting me with the rolling of her eyes; "They're a handful today," she whispered as the kids skipped happily into the room and headed for their dots.  "Good to know," I responded and then began to assess how this lesson time was going to go down.  Now what? I use music and movement activities to teach "everything" in music class, meaning; I use music for my classroom management procedures in Music Class.  And, I've found that the kids need to "move" after 2-5 minutes at the most, so using musical activities to teach them the procedures is like having my cake and eating it too!  So, that's why I think it's super important to have classroom management procedures in music class.
Today's post is short, but an information packed blog post about procedures in music class.
WHY PROCEDURES ARE IMPORTANT
When the students have their own places, I can learn names quickly and students have their own space.
They know what to do when.
Procedures in music class create more learning time.
Transitions are actually procedures. (Check out Music Class Transitions Video and Blog Post)
CLASSROOM MANAGEMENT PROCEDURES IN MUSIC CLASS
Here's the basic outline of procedures in music class.
ENTERING CLASS
During one lesson I'll do about 8-10 activities with musical transitions in between.
One way to have students enter class is to have them walk in quietly and stand on their number-silently until everyone is in the room. I enter last because I greet each student as they come into the music room. Students find their places on numbers in rows.
Or, you can have students come in walking around the circle to some music. When the music stops, they go to their places.
Having a plan for entering and a place for each student is one of the most important procedures in music class.
1- Walking in a circle to music ("Following the Leader" in the Music Class Essentials)
BEGINNING CLASS
3-Singing names activity (echo sing names on so-mi)
After everyone is in the room, we sing a Hello song which includes singing all student names (echo teacher on so mi).
As we sing their name, they sit down.
It's a fact that at the beginning of the school year the kindergarten class can be challenging.
There's a student who never stops blurting, is hyperactive and has a bit of an anger issue.
There's another one crying.
And then there's the one who won't stop talking!
What to do?
I've found that if I stick to my plan and take my time during those first few classes to get everyone on board with the procedures in music class, then the rest of the year is going to go much smoother.
4-Concept activity preparation.
Sitting or standing in the circle doing drumming, body percussion activities.
Or, singing a song, or using a prop like a puppet or book to introduce the concept.
Here's a great game you can play with K-3 classes.  "Johnny Plays the Drumbeat" YouTube Video)
Get the RESOURCE when you SUBSCRIBE!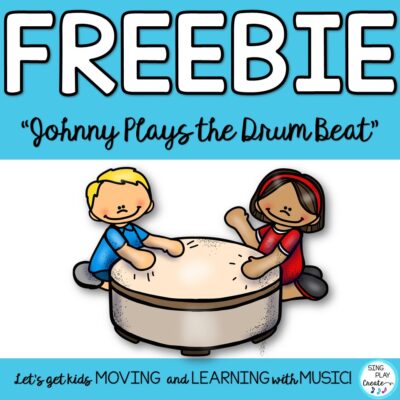 DURING CLASS
Another ideas is to use music and movement to remind students about the rules and procedures.
Instead of saying "be quiet" or, "raise your hand to talk"
I'll sing; "hands on my head", (students echo), "hands on my shoulders", "hands across my chest", "give my words a rest".
Maybe I'll keep going. . ."Touch your toes, touch your nose, follow the teacher wherever she goes". and walk around the circle for a mini break.
Now everyone is moving and paying attention to me. I rely on my attentive students to bring the class along.
At the beginning the year I will also sing; "Criss cross applesauce, hands in my lap. 1-2-3-4 I can clap!"
Also, I may review the rules about talking and the consequences. But as the year progresses, I just stick to the procedures.
Almost every time I want students to sit down, I sing this song.
Get the FREE RESOURCE when you SUBSCRIBE!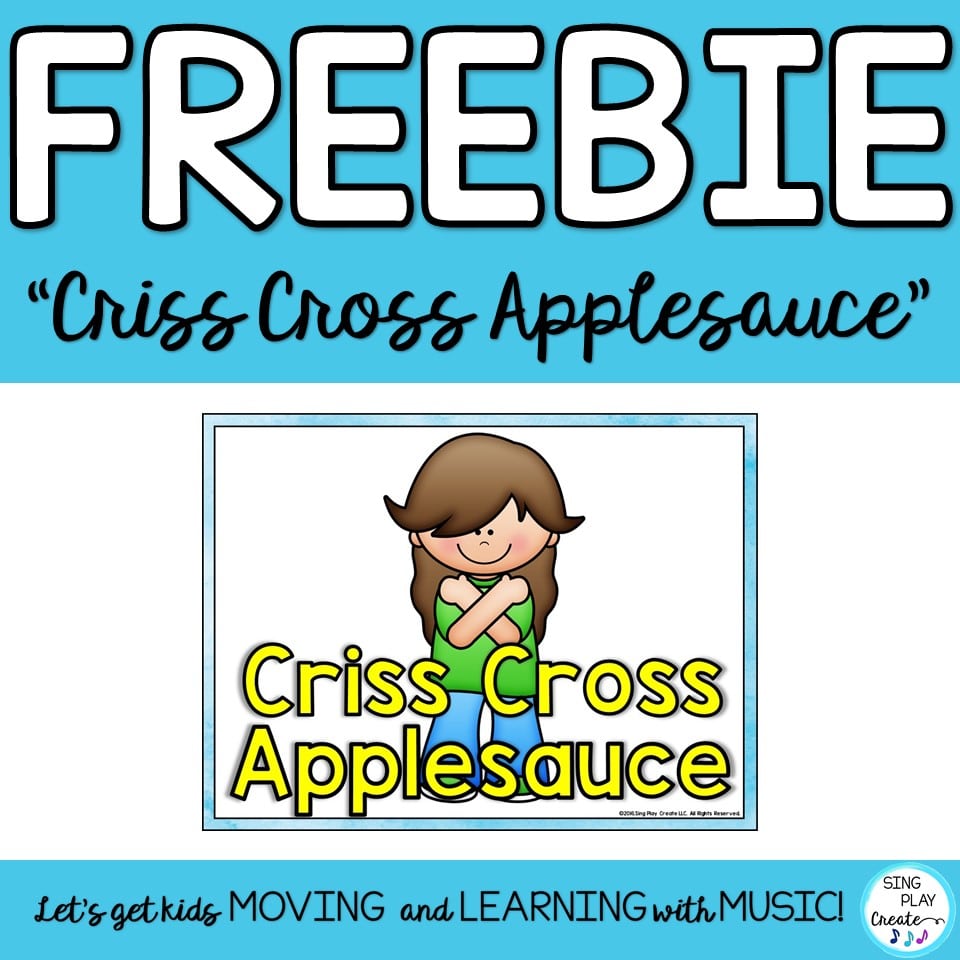 MORE ATTENTION GETTERS!
BUBBLE SPACE:  "Put some magic glue on your shoes and stay in your place."
ATTENTION: "Put on your magic glasses and tell me what you see on the white board?"
REMEMBER: "Take out your magic camera the take a picture of your number, or the notes, or this instrument"
Tons of ways to use these!
Make your procedures "fun"!
6-Movement activity (Feel the Beat Freebie in the Resource Library) that relates to the learning goal.
EXITING THE CLASSROOM
7-Calming down activity (Yoga poses to calming music)
There is a yoga and calming down section at the end of this video.
Likewise, you can use YouTube videos for this activity:
8-Walking around the circle and lining up. (Following the leader)
At the end of class, my students line up silently-walking around the circle to a specific spot and end up in a line. Then when teacher comes they give the teacher a double thumbs up if they've done a great job-then they give me a "silent" thank you in sign language. I send them out silently.
And in walks the next class!  WHEW!
Most probably, students in the primary grades will respond really well to songs, chants and hand actions. When we line up and there's a couple of extra minutes before the teacher arrives, I can sing a little song or use some pantomime activities to help the students remain calm and quiet.
Consequently, try tailoring these ideas to your upper elementary music class students needs.  Moving in a circle, or around the circle works well with upper elementary students. Play different music styles so that they become familiar with lot's of different music choices.
WHY AND HOW PROCEDURES IN MUSIC CLASS HELP ME
Ultimately, I find that I am calmer when I have a set plan to follow. Is it procedure that makes a difference, or the teacher that makes the difference?
Finally, I found that my procedures work well for me because I created them, or adapted them to fit me as a person. It seems appropriate to use hand signs and silent motions which helps me save my voice. Try to keep things simple and easily managed. Connecting emotionally with my students is important to me as well as connecting music concepts with my procedures.
So, you have to use things that speak to you and your students. It's worth it! Having a caring and calm classroom is critical to learning success.
Due to the reason that movement activities will relate to 90% of your students, you'll want to give strong consideration to incorporate movement into your procedures.
Above all, whether you move and clap, pat or stomp, toss a ball, a bean bag or a scarf- you'll easily have your students doing procedures in music class.
For some ideas on Transitions check out this article: Five Steps to Creating and using Transitions
Want to learn more? Here's what I created for my classroom along with some songs, games and activities you can do to help you get started.
MUSIC CLASS ESSENTIALS- a complete package for a music classroom.

Get ALL of the music classroom songs and procedures in the Music Class Essentials Basic, Bundle or Back to School Bundle Resource.
For any classroom teacher:
BEHAVIOR MANAGEMENT PLAN using THUMBS UP

More Ideas for Classroom Management!
5 Tips for an AMAZING Back to School Music Class
Have fun learning and incorporating classroom management procedures in music class!
Like this post?  PIN IT!