It may be the week of Halloween, but next in the school year is one of my favorite, and I believe, the most important holiday, Veterans Day.
I want my students to learn about America and how to show respect through patriotic music activities.
PATRIOTIC MUSIC ACTIVITIES
It's important to me that students experience singing patriotic songs in our public schools. That's why I have made so many patriotic music activities.
Traditionally, I have always put on a Veterans Day music program with my 4th graders.
We sing songs, have a flag ceremony and also have the veterans in our community stand up and be recognized. It's a community event that has become a tradition at our school.
In addition, my students sing for the City Veterans Day assembly over at the civic center. We just happen to be able to walk over to the performance.
Not only is the weather lovely here in November, but my students get to sing in front of the Mayor, veterans and other city officials.
You'll find a huge selection of resources in the Sing Play Create Shop for your patriotic music lessons and programs.
FREE ORFF PATRIOTIC SONG
And don't forget to check out the  new video for the Sing Play Create YouTube Channel that has the complete lesson for "Honored Veterans". It's perfect for your Veterans Day patriotic  music activities.
Be sure to get this Veterans Day freebie from the Music Freebies Page!
LINK TO FREEBIE: "Honored Veterans" Song and Orff Music Lesson
Want some more patriotic music lesson ideas?
PATRIOTIC MUSIC LESSONS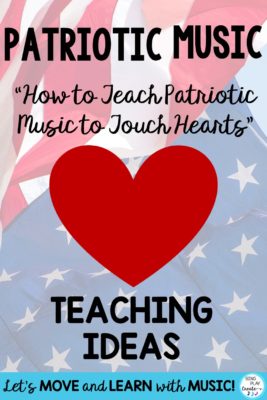 PATRIOTIC MUSIC RESOURCES
I'm hoping you'll be able to help your students pay respect to our veterans through patriotic music activities.
Please share this post with your friends!