Don't feel snowed under during January music classes! The January music lesson bundle has everything you need for your elementary music classes this winter. Be sure to read the post and get the FREE WINTER MUSIC ACTIVITIES LINK.
JANUARY MUSIC LESSONS
WINTER MUSIC lessons for K-6 grade levels!
Sing and play your way easily through January Music Class with this 305 page bundle of Kodaly and Orff lessons, songs, games, activities and worksheets.
Original and Fun with Video, Animations, Vocal and Karaoke Mp3 tracks now included with the songs for easy teaching. K-6!
MUSIC CONCEPTS
Melody, Ostinato, Rhythm, Bass Ostinato, Playing Instruments, C Scale, Sixteenth, Quarter, Eighth, Half Notes, Quarter Rest, dotted quarter, dotted eighth.
Do, re, mi, so, la, solfege.
Move to Music.
Sight singing
Playing instruments
Reading Notes
PAGES: 305 PAGES plus sound tracks and videos
FILE TYPE: PDF, Ppt. Mp3, Video
(use PDF files to project or print).
Suggested Grade Level: K-6
NEW YEAR, NEW YEAR -Orff Music Lesson
SNOWMAN, SNOWMAN-Kodaly music lesson, sheet music, activity
JANUARY, JANUARY- Kodaly music lesson, sheet music
HEY MR. SNOWMAN MOVEMENT SONG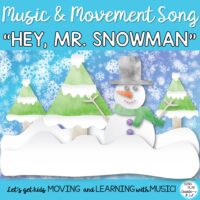 FROSTY WEATHER-Kodaly standard with variations on the game
WINTER VOCAL EXPLORATIONS with PENGUINS- Animated
Bundles save you money! Combining these 6 resources into one bundle of lessons provides materials for Winter Music Lessons K-6 which you can use over several months.
DIVERSE SET OF MATERIALS

Lessons
Sheet Music
Videos
Mp3 Tracks
Activity Directions
Worksheets
Games
I Can Statements
Teaching Directions and/or suggestions.
Here's a more detailed look at what you'll get in this resource!
Get the January Music Lesson Bundle here: JANUARY MUSIC LESSON BUNDLE
FREE RESOURCES FOR YOU IN JANUARY MUSIC LESSONS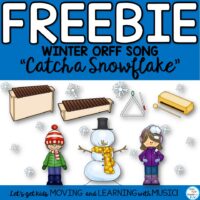 I'm hoping that you'll find just the right music lessons for your January music classes!
Like this post?  Please share with your friends!