Looking for some winter themed elementary music class rhythm activities? Classroom warmups? Rhythm practice or lessons?  Then you'll want to check out the video of elementary music class winter rhythm activities.
ELEMENTARY MUSIC CLASS WINTER RHYTHM ACTIVITIES
If you're looking for a quick activity to get your students into "music-land", then you'll want to give this rhythm video a try.
I'm always trying to come up with ways to engage upper elementary students right when they walk through the door.
Sometimes the traditional singing activities don't work- it depends on your kids and you!
So, I've been creating these rhythm videos to use for my upper elementary students. I put the video on and it plays as they come into the room.
The students can play on the instruments I've set out, or use body percussion.
Once I've taught them how to do the activity and to jump in as soon as they are in the room- then we're off to music-land!
Here's the outline in the video.
INTRODUCE THE RHYTHMS
Review or teach these rhythms.  The video moves quickly enough that you can skip the ones your don't want to use.
TAP THE RHYTHMS AND SAY THE SOUNDS
I try to help students by telling them how many sounds they will play in each beat.
You could add your rhythmic sounds to this lesson!
Whole notes: Ta-a-a-ah
Half notes: Ta-ah
Quarter notes: Ta
Eighth notes: ti-ti
Sixteenth notes: tika-tika (tiri-tiri)
RHYTHMS WITHOUT VALUES
TAP THE RHYTHMS AND SAY THE SOUNDS
There's 8 beats for each slide- so no need to rush!
TAP THE RHYTHMS AND SAY THE SOUNDS
Next I'll have my students play the rhythms that don't have the values on the slides.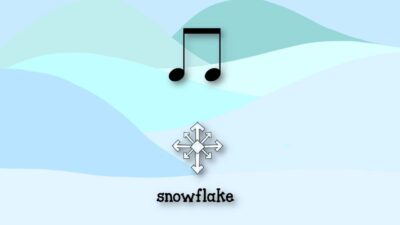 CHOOSE A RHYTHM AND TAP THE SOUNDS
The next two activities are great for practice.
I like this first one to assess whether or not students understand and can play the rhythms together.
I like to divide and conquer learning goals in the music room. What I mean, is that I like to divide students into small groups and have them work together.
This activity could be done with body percussion or classroom instruments.
Try using xylophones or recorders for your whole and half note rhythms.
Next, use percussion instruments for the quarter, eighth and sixteenth notes.
Finally, this section allows students to choose a rhythm, and they aren't in any type of order or placement.
After doing this type of activity several times, you'll be able to ask students to create ostinato (i).
I think keeping the activity simple and easy to do- allows students to understand and show skills quickly.
Most of all, don't forget to compliment your students!
I tend to use the word "awesome" a lot- but it still works!
If you like these kinds of rhythm activities, you'll love this resource!
WINTER CHANTS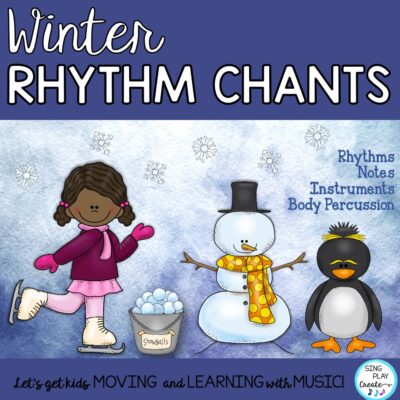 And- don't forget to check out all the FREE RESOURCES you get when you SUBSCRIBE to the Sing Play Create Resource Library.
It's free and I promise not to sell your email, or send you too many letters.
SUBSCRIBE HERE
I'm hoping this helps you with your Winter music lessons!


Please share this post!