It's back to school in January and the perfect time for some winter music class tips and freebies. Keep reading to get the lesson ideas for your primary music classes so you can have a "cool" time in your class this winter.
WINTER MUSIC CLASS TIPS AND FREEBIES
These freebies focus on learning these skills:
LEARNING GOALS:
Sing so-mi-la-do
Show so-mi-la-do
Create a melody using so-mi-la-do
Play So-mi-la-do
SET THE SCENE WITH SNOW PLAY ACTIVITIES
1- Begin class with snow play activities to help students define personal space and practice listening and echo teaching skills.
WINTER ACTIVITIES FREEBIE
2- Sing the "snowman" song.
Or, you can use the "Catch a Snowflake" song.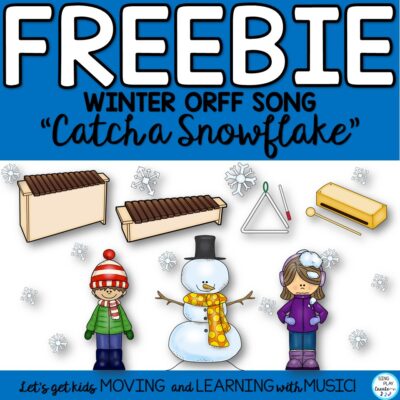 USE PUPPETS TO SHOW PITCH
3- Use puppets to show so-mi-la-do
4- Sing snowman songs
6- Show – Use the puppets to show melodic patterns.
Try echo singing so mi patterns and have your students show you with their puppets.
7- Sing the snowman song with the puppets.
MOVE WITH MR. SNOWMAN
Move to "Hey Mr. Snowman" activity song
CREATE MELODIC PATTERNS
8- After the puppet activity, have students go to xylophones and create melodic phrases.
9- Have them sing their creations.
REVIEW AND ASSESS SKILLS
10- Review: Ask students to sing and show so mi la do after they line up or before dismissing.
Assess: This can also be a good time to encourage solo's, or have smaller groups perform skills.
Remember, these lesson ideas can be used throughout the "winter" season.
The keys to success for students learning are:
repetition
variety of learning experiences
interactive activities
That's why you'll want to subscribe and get  all of the Winter Freebies for your music classes.
If you're looking for more Winter and January music lessons, you may want to check out the Sing Play Create Shop.
And-
if you're looking ahead to February Music Lessons you'll want to check these resources:
"Pass the Valentine" Game Song
Orff Song and Music Lesson "Valentine's Day"
Be sure to SUBSCRIBE to get February lesson ideas and the February Free resources.
I'm hoping that these winter teaching tips and freebies will help you in your music classrooms!
Please share this with your music friends!