Ahoy! Dance and sing like a pirate with these original Pirate Music and Movement Activities.  Most children love pretending to be pirates and I've got some fun activities you can combine with your music lessons. Let's go find the buried lesson treasure!

MUSIC AND MOVEMENT RESOURCES: DIGITAL AND HYBRID LEARNING ACTIVITIES
Song and Dance "I'm a Pirate"  for "Talk Like a Pirate Day" is easily adaptable for all ages. The Song and Dance are part of a Music Lesson Resource with Music Lesson Video for the Orff parts, Song and Dance video too! Halloween or Brain Breaks-anytime you want your children and students to take a break, move and sing like a pirate. Fun Song and Dance with Vocal and Mp3 Tracks for K-6. Includes Orff Arrangement, Sheet Music and Dance directions. Easily adaptable for all ages 4-12 and Pre-K- 6th grades.
You can get the complete resource here:
TALK LIKE A PIRATE AND STEAL THE TREASURE!
You can get some great lesson ideas in this blog post! It's got video links and activity ideas.
How arrr ye celebrating "National Talk Like a Pirate Day?" Will ye be a good ol' seadog and pillage and plunder? Arrrgh ye scallywags, or will ye walk the plank?  Well, blow me down! I've got some great music lesson treasures I've looted from some of my favorite music teacher friends and some freebies for you to use in your classroom, savvy?  It's the purrrrfect way to celebrate with these "National Talk Like a Pirate Day" music education treasures.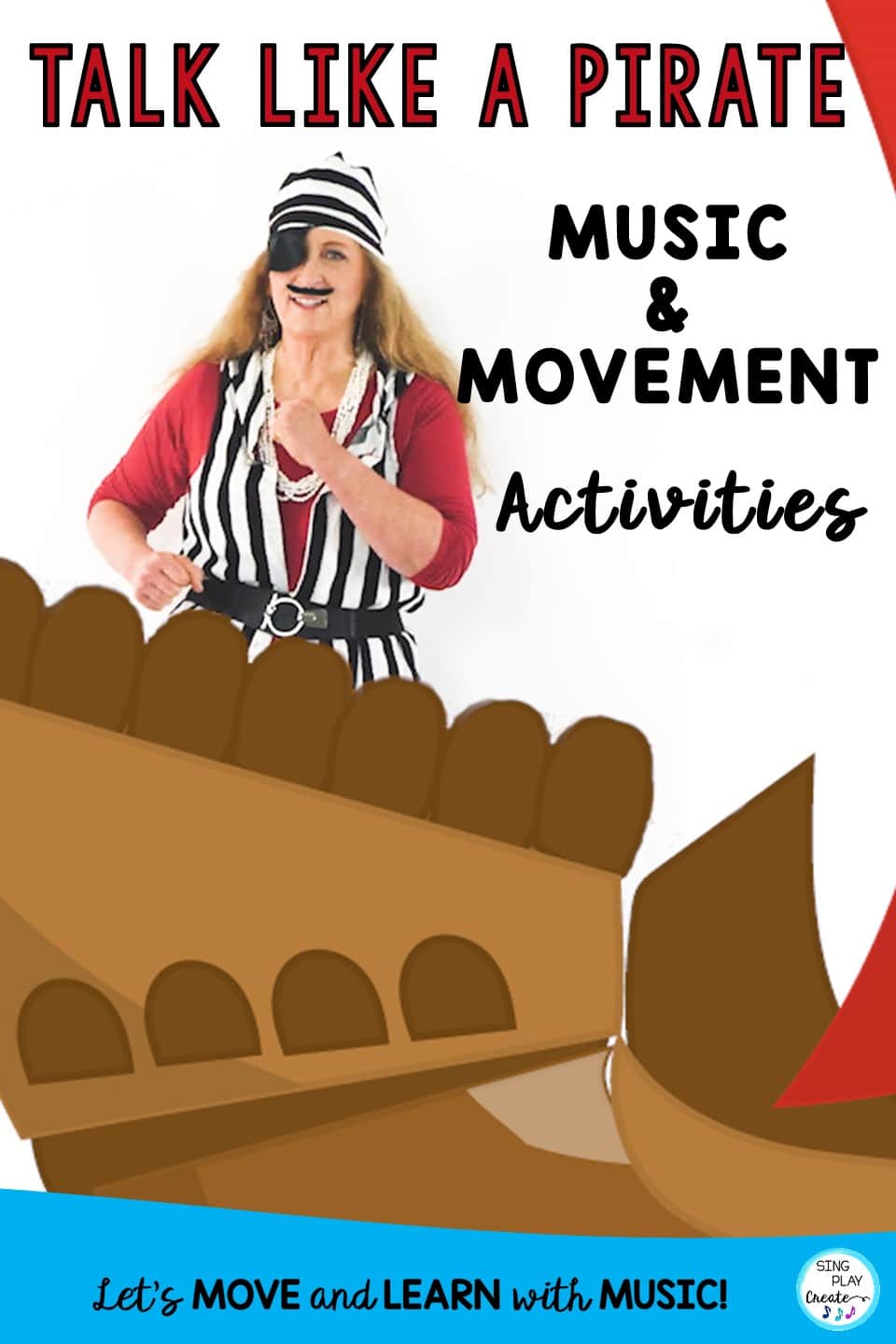 MOVE LIKE A PIRATE!
Not only can you have your students dancing like a pirate, they can move with scarves too!
With this set of Movement Cards, Presentation and Flashcards, your students will find the music and movement treasure!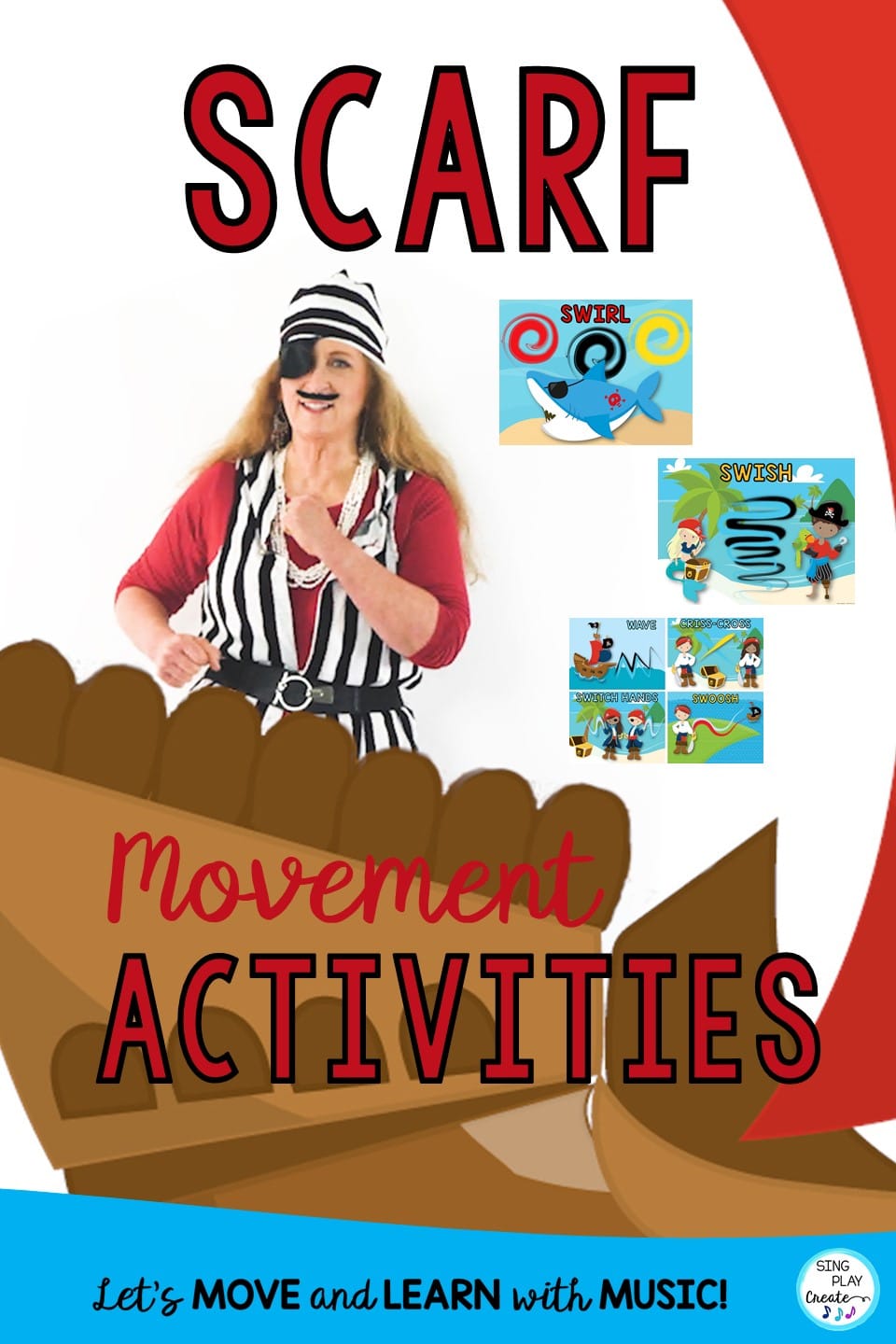 This blog post has tons of activities you can use for your Pirate Day lessons.
PIRATES CHANT AND PLAY RHYTHM ACTIVITIES
Pirate chants for elementary music classrooms.  Students memorize, perform and play the rhythms and chants.  This set of materials is perfect for stations and "social distance" teaching.  Print enough copies for all of the students using the mini cards and then have them all practice their parts.  Picture them spaced out in the classroom.  You call out "chant #1" and just those students stand and read their card.  During the next class they can memorize and create some movements for their chants.  This resource also includes worksheets that are perfect for google slides activities.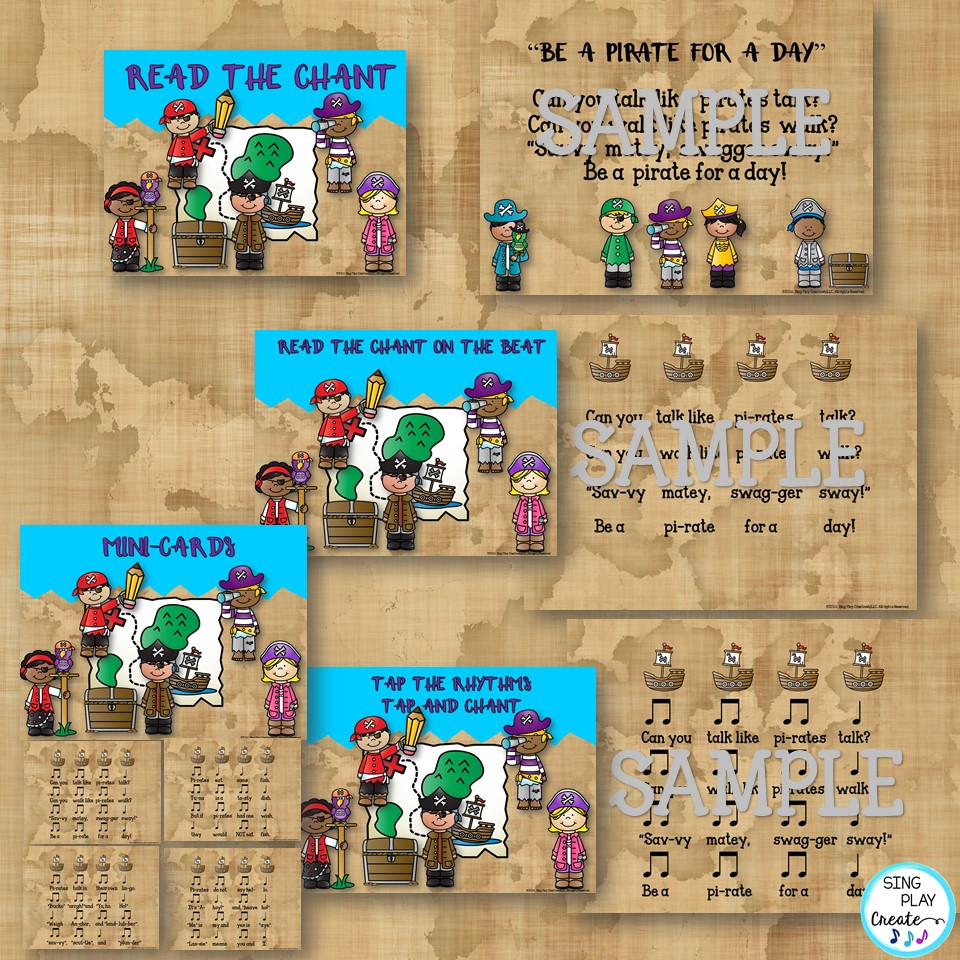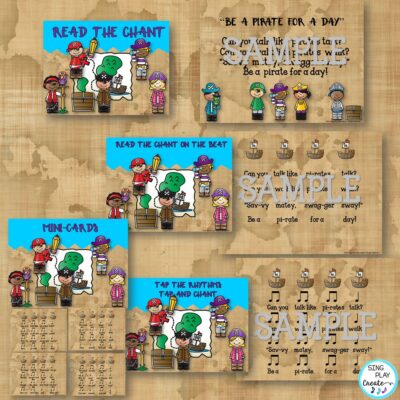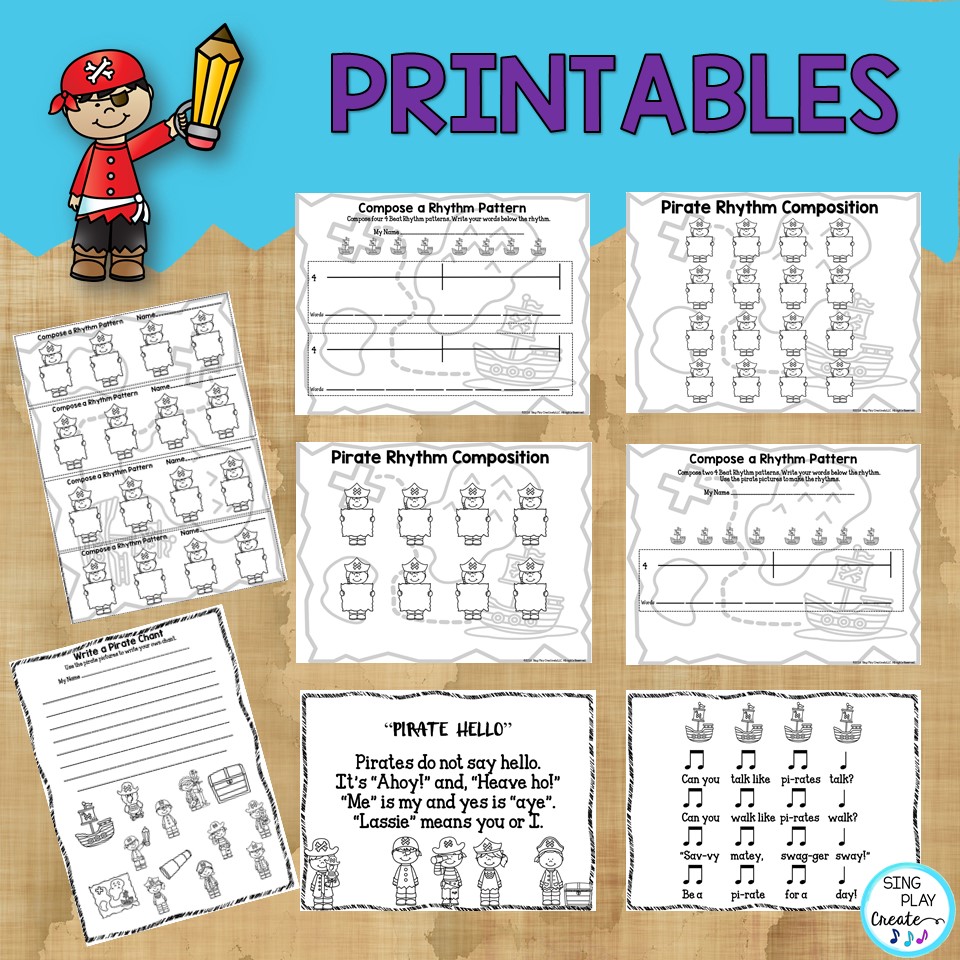 MAKE MUSIC LIKE A PIRATE
With all of these ideas, you'll have students making music in no time.  When you incorporate teaching strategies that support reading, writing, listening, chanting/singing, and moving in your music lessons, students will excel in skills.
The Bundle of Pirate Music and Movement Activities gives you the materials you'll need to maximize student learning.  You can use the videos and presentations in your virtual, hybrid and in person classes.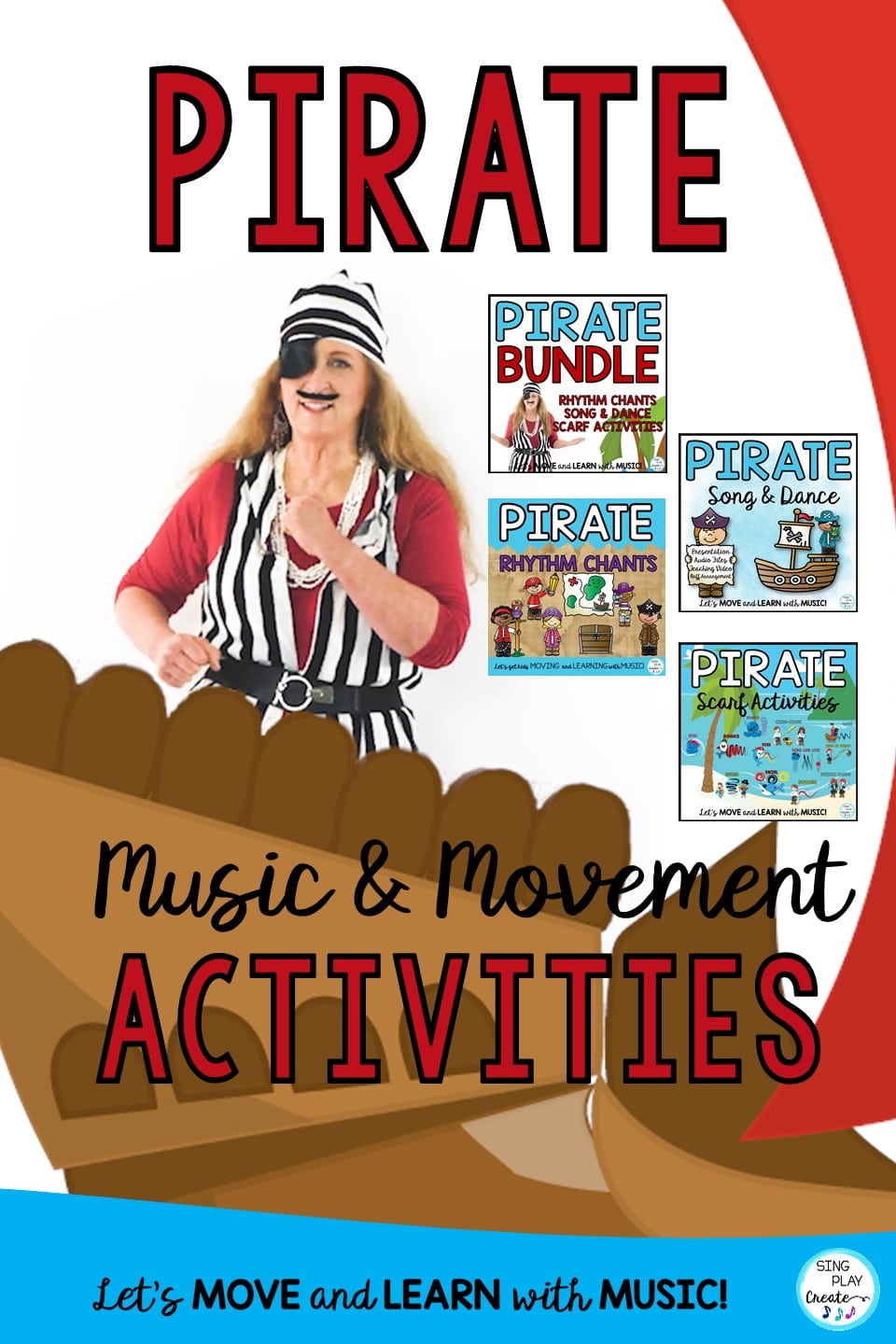 Please share this post with yer "hearties".