Let's play pirate rhythms! Pirate rhythm activities for the elementary music classroom. Purrfect treasure fer "Talk Like a Pirate Day". Today I'm sharing my elementary music class Pirate activities you can use in September Music Lessons. These activities be gold fer ye online and in person music class lessons.
Here are my
TIPS ON TEACHING PIRATE RHYTHMS
Matey's you'll want to use the rhythm review video to help your students get back into the "rhythm" of tapping, clapping rhythms again.  Don't make students walk the plank if they don't get to the treasure right away.  By the time the activities are over, they'll be pirate captain's rhythm captains of their own.  Teach rhythms, practice, assess using the presentation, video and google slides drag and drop activities. Use the video for your sub plans, online or in person. Students will love the Pirate Themed images.
PREPARING
Here be the CONCEPT TREASURES!
Quarter, Eighth, Sixteenth, Half and Whole Note Values
(Teacher can edit this resource to use the note values for different grades.)
RESOURCE INCLUDES:
Drag and Drop Images (28 1 beat images, 2 half note images, 1 whole note image)
Images are in color and in black and white
Teaching Video
Teaching Presentation
Google Slides Drag and Drop Activity
Teacher Guide with teaching directions.
Get the Free Resource when you SUBSCRIBE to the Free Resource Library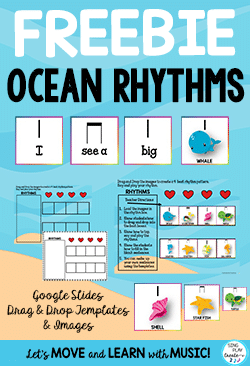 Use the rhythm teaching pages for whole, half, quarter, eighth and sixteenth note rhythms.
Follow along the presentation that has the examples of 4 beat rhythm patterns.  This will prepare students for the google slides pirate rhythm activities.
Ye may want to peruse this here post on more ways to teach rhythms! Elementary Music Class Back to School Rhythm Activities
PRACTICING
Once students understand how to say and play the rhythms, it's time for some practicing.
You can use the google slides activities in your classroom on a computer, ipad, smartboard or interactive white board.
If you're teaching online, then you can share your screen with your students to demonstrate.
Then have them practice on their own.
Just look at this here TREASURE!
Concepts: Whole, Half, Quarter, Eighth, Sixteenth notes
Teaching Pages for Beat and Rhythm Values
Rhythm Review
Sounds on the beat
Teaching page for each value and sound
Clap the Rhythm review
Practice – Say and Play the Rhythm and Sounds
Drag and Drop Rhythm Pattern Activity- Fill in the missing images. (9)
Drag and Drop Rhythm Pattern Activity- Fill in the missing rhythms. (7)
Create your own rhythms with quarter/eighth, half and sixteenth note versions.
Create Your Own Templates (4) make copies of the templates and use the digital images to create your own activities.
"Ye be a Music Heartie!" poster to congratulate students on completing the activities.
PERFORMING
I believe it's important for students to say and play for others.  Encourage them to share their rhythms with a guardian or classmates.
Did you lose the map?  Well, me hearties, it's OK!  We can use lot's of teaching ideas to help students find the rhythm TREASURE!
TEACHING IDEAS:
Play the Video to review rhythms and introduce the concepts.
Be sure to have students "say and play" the rhythms and sounds/words.
Open the presentation and follow the slides, review, and practice rhythms with the students.
You may need to review one class time and then continue the next class to complete the activities.
Students may need more practice too.
Consider using the video a second time for students to play along.
Drag and Drop Activities- do these as a class first to demonstrate how to do the activity.
Assign or offer the create your own activities as needed.
There's lot's of teaching ideas in this here treasure chest too!
You may want to check out these other digital rhythm activities:
RHYTHM ACTIVITY BUNDLE
No matter where you are teaching, this resource provides the tools for students to gain a greater understanding of rhythm and beat and how they go together.
After all, these are exactly the kinds of activities students will remember and learn from because they are relevant, relatable and engaging!
Please share this post!