Get ready for some fun elementary music class back to school rhythm activities for your K-6 general music classes.
Whether teaching online or in person, you'll find lot's of tips and resources to help your get your student feelin' the rhythm again!
ELEMENTARY MUSIC CLASS BACK TO SCHOOL RHYTHM ACTIVITIES
Can't have students sing?  That's okay!  Use the beat charts and iconic and rhythmic notation charts for rhythm activities.
While many of us will be teaching online, some will be in the classrooms.
No matter, all of us are scrambling for activities we can do being virtual or "socially-distanced".
Get the YEAR LONG RHYTHM ACTIVITY BUNDLE HERE:
Here are some tips for engaging students in either scenario.
JOIN our group of Music Educators and Get Access to Over 60 FREE RESOURCES
PREPARE FOR RHYTHM ACTIVITIES
I like to begin the school year with the steady beat body percussion activities.  These activities are perfect for online teaching.
They include patterns that students can do alone.  These beat activities don't have to be done in person or with buddies.
Students can follow along with the video to practice the steady beat.
You can use the music and presentation files to teach all about body percussion, and then use the worksheets with your upper grades to create their own patterns.
Most of all, these kinds of activities help students in SOOOO many different ways! Just look at some of the things that playing body percussion helps develop:
Exercise
Gross Motor Skills
Eye Hand Coordination
 Beat
Iconic notation
First, have students chant on the beat.  Even upper elementary students need to review saying and playing on the beat.
That's why chants are a great way to begin the school year.
MOVE TO EASY GRADE LEVEL RHYTHM ACTIVITIES
Chanting is going to be "in" this year due to many school districts banning "singing"!  Who would have ever guessed that we would not be able to sing in our classrooms?
So, I've been working on new rhythm activities for you.
Music Class Chant, Game and Rhythm Lesson: "Get to Know Ya" Level 1
Rhythm activities will be perfect for online music classes!  Rhythm games are an essential part of the music classroom experience.
"Get to Know Ya" Rhythm game can kick start your school year off to a great beginning. I
n class or online, you can use these materials to get to know your students and get them back into music land reviewing and learning rhythms.
Level 1 is perfect for your primary classes.
Overwhelmed?  No worries!  You can get this FREE Editable MUSIC TEACHER PLANNER for GOOGLE SLIDES when you Subscribe
UPPER ELEMENTARY RHYTHM ACTIVITIES LEVEL 2
Ready for 16th note rhythms?  These activities will help you jump right on in using chants, games and digital resources to help students get reacquainted with sixteenth notes.
Music Lesson: "Apple Tree" (so mi la) Upper Elementary Song, Game, Worksheets, Video Mp3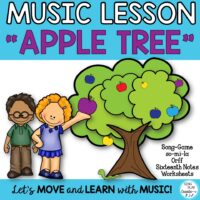 DIGITAL RHYTHM ACTIVITIES LEVEL 2
Music Rhythm and Melody Drag and Drop Digital Lesson and Activities LEVEL 2
Upper Elementary Music Class Chant, Game and Rhythm Lesson: "Get to Know Ya" Level 2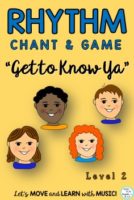 ENGAGE WITH DRAG AND DROP ACTIVITIES
DIGITAL RHYTHM ACTIVITIES LEVEL 1
Music Rhythm and Melody Drag and Drop Digital Lesson and Activities LEVEL 1 work perfectly with Music Lesson: "Apple Tree" So-Mi, Activities, Worksheets, VIDEO, Mp3 Tracks
For those of you teaching online, you'll want to up your game with google slides activities.
You can do these with your students as you screen share, or send them a link through google classroom or your learning platform, and then have them do the activities on their own and share their work with you.
Check out these Digital Body Percussion Activities with Drag and Drop images!
Want to incorporate some movement with your rhythm activities?
This introduction to rhythm video works perfectly with these activities- and is included in the resource!
Be sure to Subscribe and Save this to your playlists!
Your Kinder, First and Second graders will love moving on the beat with you in your video lessons!
ADD MOVEMENT AND RHYTHMS
Rhythm Movement Activities K-2
Picture yourself doing these online!
And You'll need some music tracks to help you stay on the beat.
NEW RESOURCE!
Looking for some MUSIC you can use in your classroom for those movement activities and brain breaks?
Need music to play the beat, rhythms?
Use with scarves? Dance?
Parachutes? Bean Bags?
Stretchy Bands?
Then these music tracks are for you! Safe, fun, upbeat, and various styles included for a variety of movement activities.
RESOURCE INCLUDES:
10 Mp3 Audio files
33 minutes of music playing time
Each track is a different tempo and different style of music.
USE TO TEACH THESE CONCEPTS:
STEADY BEAT
RHYTHM
FAST/SLOW
STOP/GO
EXPRESSION
LEVEL 2 RHYTHM ACTIVITIES
And I haven't forgotten about our upper elementary students!
FREEZE DANCE PRESENTATION, POSTERS AND CARDS
Perfect for online activities.
Play the music and hold up a card.
Praise the students who are showing the actions the best.
Choose the students who "freeze" first and give them awards/stickers/shout-outs!
USE COMPLETE MUSIC LESSONS WITH RHYTHM ACTIVITIES
All of the Sing Play Create music lessons have rhythm components.
Get this BACK TO SCHOOL Music Class Songs, Activities, Games, Chants, Lessons, BUNDLE for your first quarter activities.
The Rhythm chants and the "Apple Tree" music lessons are included in this back to school bundle of music lessons and activities.
INCORPORATE VIDEOS  from the SING PLAY CREATE YOUTUBE CHANNEL
Train Rhythm Activities
There is a rhythm video for each theme of the year on the SING PLAY CREATE YOUTUBE CHANNEL.
You can use these videos in your online and in class lessons.
PRACTICE AND ASSESS RHYTHMS
MUSIC THEORY AND RHYTHM ACTIVITIES, POSTERS, VIDEOS, WORKSHEETS
LEVEL 1-2-3-4 VIDEO RHYTHM ACTIVITIES
Alternately, the Music Theory Bundle of Activities will keep your students playing rhythms all year long.
Videos, visual aids and activities make this an essential rhythm resource.
Music Theory Lessons, Games, Song, Worksheets, Flash Cards, Videos, 1-6 BUNDLE
Ultimately, you'll want to look at the Sing Play Create Year Long Music Lesson BUNDLE with over 60 resources!
Don't let Back to School be your nightmare!
WATCH THIS "MUSIC TEACHER NIGHTMARE" VIDEO to get an idea of what you need!
Imagine having music lessons for the entire school year for the general music classroom? With the Year Long Music Lesson Bundle of Bundles, you'll have a scope and sequence of K-6 Lesson materials to build a curriculum or embellish your existing curriculum.
Music lessons, songs, games, activities are centered on the National standards around holiday/seasonal themes. Every monthly bundle includes video and audio files along with worksheets.
This bundle has the materials for lessons, movement, and music programs. Materials are based on both Orff and Kodaly methodologies!
The planning pages help coordinate your entire year's curriculum using the standards based scope and sequence. Each monthly music lesson bundle includes materials for Kindergarten through sixth (6th) grade.
10 MONTHLY LESSON THEMES with Orff, Kodaly activities, worksheets, videos, sound files.
FREE UPDATES
NO LIMIT TO DOWNLOADS
Overall, rhythm activities can be a safe way we can keep the music going in our classrooms despite the COVID-19 VIRUS.
And, I'm hoping you got some ideas from this post!
Please share this post with your teacher friends!