Well, it's happened whether we like it or not, teachers are having to teach in a virtual setting. And so, I'm sharing virtual rhythm activities for online music classes.
These activities can be done in person too! So let's get the beat started and play some rhythms!
ELEMENTARY MUSIC VIRTUAL RHYTHM ACTIVITIES
I am going to be teaching virtual this year.  And honestly, rhythm activities are going to be my first quarter go to activities.
TIPS FOR TEACHING VIRTUAL LESSONS
I've had to think really hard about this one!  Teaching in person is VERY different than teaching online.
I decided to make some posters to help navigate teaching the rules to my students during the first class.
Here's what I came up with:
(you can get this resource for your classes by clicking on the link)
VIRTUAL CLASSROOM RULE POSTERS AND FLASHCARDS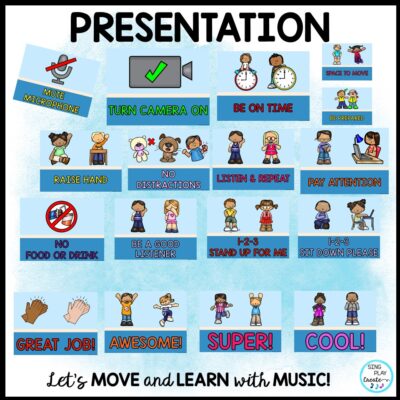 MUTE MICROPHONE

TURN CAMERA ON

BE ON TIME

NO FOOD OR DRINK

NO DISTRACTIONS

SPACE TO MOVE

BE PREPARED

PAY ATTENTION

RAISE HAND TO SPEAK

BE A GOOD LISTENER

LISTEN AND REPEAT

COMPLIMENT, PRAISE AND REWARD

123 STAND UP FOR ME

123 SIT DOWN PLEASE

GREAT JOB!

AWESOME!

SUPER!

COOL!
Since I'm teaching music, I'll ask students to make space so that they can move around sitting and standing.
That way we'll be able to do movement activities together.
VIRTUAL RHYTHM ACTIVITY IDEAS
To begin with, I'll be using my Music Theory Rhythm videos and posters.
Music Theory Resource
First, I'll review the note values.  I'll ask students to be my "echo" and repeat after me.
Next, we'll practice rhythms together.
I'll use the presentation in the Music Theory resource for students to practice reading and playing rhythms.
Next: Show the pictures and demonstrate each rhythm slowly.
Then I'll have them play a game.
And, I've created thematic rhythm activity videos you can use in your online teaching.
Each video comes with a resource of practicing materials.
TRAIN RHYTHM ACTIVITY
TRAIN RHYTHM VIDEO
CHECK OUT THESE RHYTHM VIDEOS!
(BEACH) SUMMER RHYTHM ACTIVITY
You'll want to check out the resource that goes along with the Beach Rhythm Activities Resource.
It has google slides drag and drop activities to practice and create rhythm patterns.
ACTIVITIES TO PRACTICE RHYTHMS
Even though we're online, we can still play games and fun activities.
RHYTHM ACTIVITY IDEA #1:
Divide the class into 2 groups. Use your fingers- 1 and 2 to tell the students who's turn it is to play.
Use the beach rhythm video for students to play rhythms or print out the flash cards.
Have the team that get's the most correct stand up and take a bow as the other team claps.
You'll be able to use the posters in the resource to help you play this game.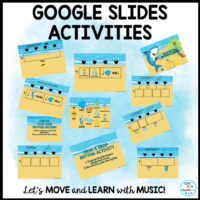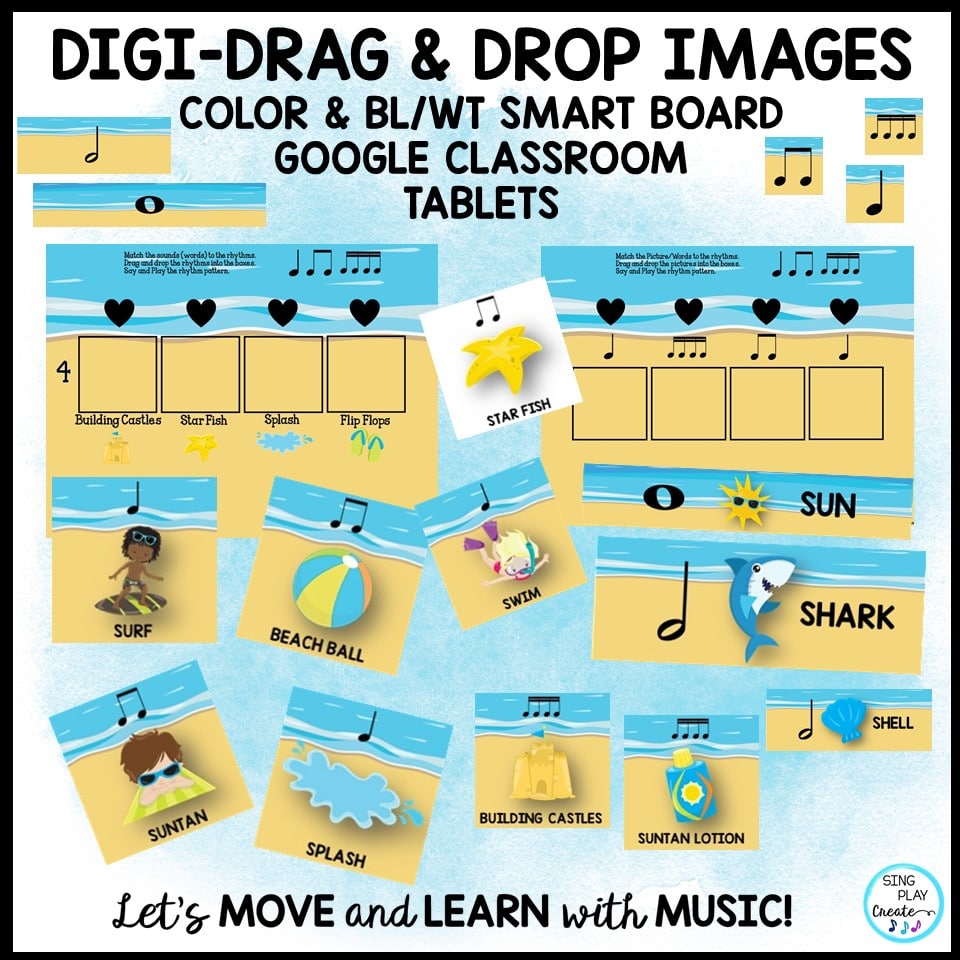 ACTIVITY IDEA #2
Have students use body percussion or movements to play the rhythms.
You may want to get this resource with images, videos, activities for your online classes.
BODY PERCUSSION ACTIVITIES CLAP, PAT SNAP!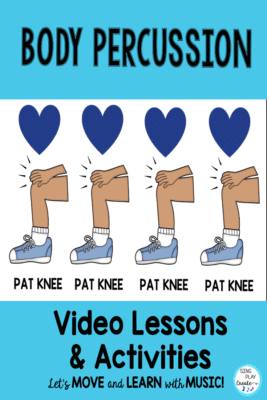 I'll be combining these activities so that students have a chance to move during our class time.
ACTIVITY IDEA #3
Try this activity to assess students.
Use music tracks for students to play rhythms.
Hold up a rhythm card and have the students play the rhythm on the beat.
If you're looking for some music tracks without vocals, here's a set of music tracks you can use for all steady beat activities.
MUSIC TRACKS
ACTIVITY IDEA #4
The last idea involves students creating rhythms.
Before class time, ask students and parents to have "popsicle" sticks, straws or even chop sticks at the next class time.
Or, have the worksheet available to the students to print out for their class.
Or, let them use crayons and draw the rhythms as best as they can.
Show a rhythm pattern, have students clap the rhythm, then have them make the rhythm using their own manipulatives, crayons or materials.
You can also use worksheets for students to fill out together during class, or as extension activities.
Or, consider using some of these drag and drop rhythm activities where students move the images. Be sure to practice these during class, and then have students report back what they did using the images.
DRAG AND DROP RHYTHM ACTIVITIES
Overall, you can do many different rhythm activities in your virtual classroom.
This article has tons more ideas for your virtual music classroom activities.
Sing Play Create has thematic rhythm activities that you can use throughout the school year.
SEPTEMBER

OCTOBER

NOVEMBER

DECEMBER

JANUARY

FEBRUARY

MARCH

APRIL

MAY
Make the most of your online classes incorporating, listen and repeat, body movement and "showing" type activities.
Students will love the interactive and differentiated learning opportunities while learning about music.
Please share this with your teacher friends!