Free spring music and movement activities for the preschool, elementary music and regular classroom teacher. Spring is a great time to incorporate movement activities! Check out this list of Free Activities!
SPRING ACTION & ADVENTURE SONG "HOP LITTLE BUNNY"
Bunny is hopping to the garden and then runs away when he sees the FARMER! Fun story action song you can read and play. Review the actions first, then play the entire activity.
SPRINGTIME ACTION SONG AND DANCE "SPRINGTIME DANCE"
Looking for a quick movement break? Springtime dance is perfect for getting students up and moving right away. And, this song makes a perfect performance song for younger children in a spring music program.
SPRING FREEZE DANCE
Get ready to MOVE and FREEZE! This is a WORKOUT and EXERCISE video! Students will love doing this activity in P.E., Music or their regular classroom.
SPRING SCARF ACTIVITY
Got scarves? Then let your students spring into action following the cute spring characters as they WAVE, SWIRL, ZIG ZAG their scarves.
SPRING ACTION SONG "FUNNY LITTLE BUNNY"
Another fun bunny action story song. The funny little bunny hops to the garden to nibble on some carrots…what happens next? Prepare students to have a place to "hide" from the farmer. Create "pretend" burrows under desks, on their spots or in the middle of a circle.
Next your students can create their own actions!
EGG SHAKER ACTIVITY "SHAKE YOUR EGG"
Grab your egg shakers or maracas and play along with this egg shaker song.
Shake your egg if it's….blue….red….yellow-
All the colors! If you have colored eggs you can ask the students to only play when it's their turn! Then have them switch instruments.
This song will really shake up your music and movement activities!
SPRING STEADY BEAT BODY PERCUSSION PLAY ALONG
Spring friends help students move on the steady beat.
Try patting knees first to feel the beat- then review each action.
Finally, follow along with the video!
My student's favorite spring video!
SPRINGTIME BODY PERCUSSION RHYTHMS
Which icon is "ti-ti" or joined eighth notes? Which ones are "ta" or 1 beat?
Ask students to identify first, and then play along.
TEACHING IDEAS:
Try giving small groups a chance to play for the class.
Divide class into 2 groups and have 1 group play the beat and the other one play rhythms.
SPRING RHYTHM ICON ACTIVITY
Mr. Bee and the "Ti-Ti" flowers will help students with their quarter note and eighth note rhythms.
UPPER ELEMENTARY SPRING RHYTHMS #1
Upper elementary rhythms can be tricky. Use this activity as a warm up.
Again, pair this activity with the FREE SPRING RHYTHM RESOURCE.
UPPER ELEMENTARY SPRING RHYTHMS #2
FREEBIE SPRING MUSIC AND MOVEMENT ACTIVITIES
Here are just some of the activities you'll find in the library.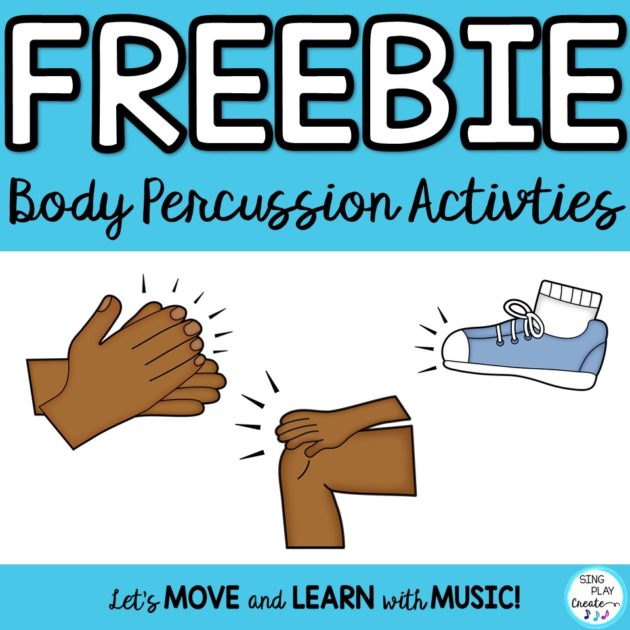 Have fun with Spring music and movement Activities!

Please Share this post:)