Ho, Ho Ho!
Hi, I'm the Sandra the creator at Sing Play Create Educational materials.
Today's post is about Holiday music class teaching tips and free holiday activities from the Sing Play Create Free Resource Library. (This post is a transcript of the video.)
I'm so excited to announce a NEW YOUTUBE CHANNEL where I'm sharing my music class teaching tips, activities and so much more!
MUSIC CLASS TEACHING TIPS BY SING PLAY CREATE
HOLIDAY MUSIC CLASS TEACHING TIPS AND FREEBIES
Let's get started!
I'm sharing a variety of activities that can be used during December music lessons.
I'll be focusing on teaching music concepts using some of the FREE RESOURCES in the Sing Play Create Free Resource Library.
The link to join is in the description of this video.
STEADY BEAT ACTIVITY WITH HOLIDAY MUSIC TRACKS
I like to start class with a Steady Beat activity.
Sometimes I start it as the children enter the room-
Sometimes I start it after we sing our hello song.
PLAY FOLLOW THE LEADER WITHOUT TALKING-
TURN ON SOME MUSIC AND MAKE SURE IT'S ON LOOP SO THAT IT KEEPS PLAYING WHILE YOU ARE MOVING.
I have some background tracks on Spotify and Apple, Amazon music. I'll be using one of them today.
HOLIDAY INSTRUMENTAL MUSIC TRACKS
Tpt store HOLIDAY INSTRUMENTAL MUSIC TRACKS
And SPOTIFY-APPLE MUSIC- AMAZON MUSIC SIGN
YOUTUBE: https://youtu.be/xyGkYAd9_OI
SPOTIFY: https://spoti.fi/3G0Lkcj
APPLE MUSIC: https://apple.co/3pwV47N
AMAZON: https://amzn.to/31d8b5l
DIRECTIONS
USE HAND ACTIONS TO HAVE THE STUDENTS COPY YOU
STEP ON THE BEAT.
IF THE STUDENTS TALK, USE THE WHISPER SIGN AND DON'T RESPOND-KEEP MOVING
THEN POINT TO ANOTHER CHILD AND MOTION FOR THEM TO FOLLOW THE FIRST CHILD. TURN AND SIDESTEP ON THE BEAT.
IF THE CHILDREN AUTOMATICALLY JOIN IN THE LINE-GREAT!
KEEP IT GOING!
NEXT, STOP WALKING AND POINT TO ANOTHER CHILD AND MOTION FOR THEM TO GET IN THE LINE.
NOW CLAP THE BEAT.
THEN POINT TO EVERYONE BY WAVING YOUR FINGER AROUND AT THEM AND MOTION THEM TO JOIN THE LINE.
NOW YOU CAN DO SOME ACTIONS ON THE BEAT
STOMP, PAT, SNAP.
Next time you play the game, you can have a student lead the circle. The children now know what to do.
To do this activity, you'll want to use the FREE MOVEMENT CARDS from the RESOURCE LIBRARY.
HOLIDAY INSTRUMENT ACTIVITY GAME
This activity can be modified for Kindergarten through your upper elementary grades.
This activity will help your students learn instrument names and play the steady beat or rhythm patterns.
You'll want to get out your classroom instruments and print or project the Free set of instrument cards for this next activity.
I call this game, PLAY AND SWITCH Play the Beat and Switch Your Instrument
Give each student an instrument.
Play some music that has a nice strong steady beat. Play the music for at least 30-45 seconds.
When the music stops, only one group of students will switch their instruments with someone else. I let them choose any instrument from any group.
Review how you want them to play the instruments and to be respectful.
I have played the game where I have the students sit in groups with all the same instrument. I like to play this way to minimize confusion and keep the game going.
Tell them that when the music stops, they need to FREEZE and stop playing.
Then show an instrument card. That group gets to switch instruments.
Play the game enough times so that everyone gets a chance to choose new instruments.
UPPER ELEMENTARY ADAPTATION
This game can also be played with students playing a rhythm pattern.
Create a rhythm using the Holiday Beat and Rhythm Cards FREEBIE
and project it or practice it before the game.
You can switch the rhythm pattern each time students switch instruments.
Have everyone play that rhythm pattern together.
SANTA NEEDS MORE ELVES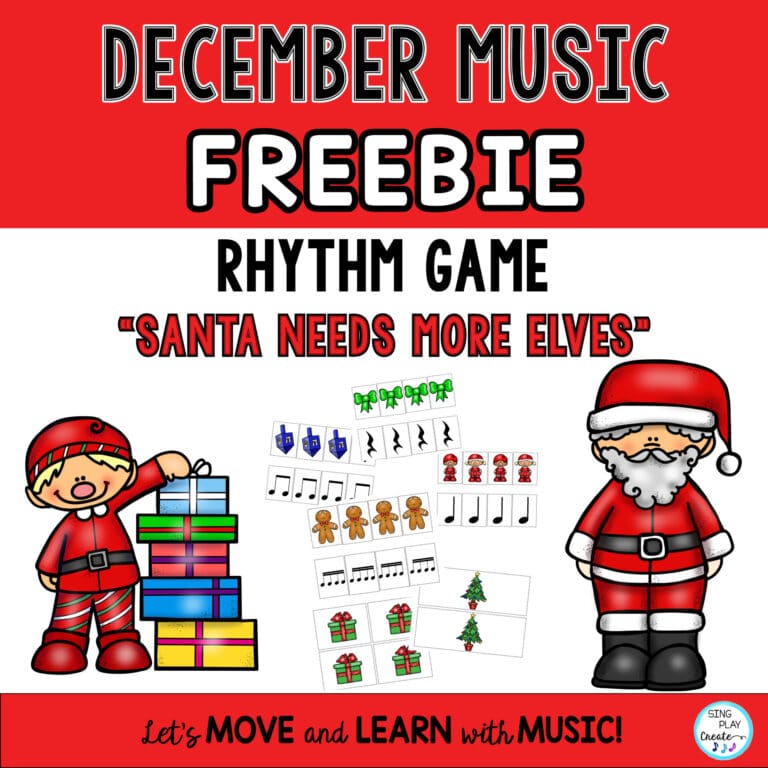 Prep: You'll need rhythm or pitch flashcards and instruments to play 4 beats of rhythm or notes. You can download these from the Sing Play Create Resource Library.
HOLIDAY RHYTHM FLASH CARDS
You may want a prop to designate "Santa" and an "Elf".
The entire class will eventually become "elves".
One idea is to use stickers.
Use a Red, White or Green sticker or name tag for each character.
GAME DIRECTIONS:
Up at the north pole, the elves can't keep up with the growing human population.
Santa's desperate. He needs more elves to make all the Christmas presents on time.
Will you help him?
Choose a student to be Santa. Send Santa outside the classroom (or have Santa turn around and hide his eyes) with a stack of rhythm or pitch cards.
The rest of the class stands in a circle.
Santa comes back into the classroom and passes out 4 rhythm cards to someone.
That person must create a rhythm pattern from the 4 cards and play it correctly on an instrument. (You could choose for them to clap it instead.)
If the student get's it correct, they become an "Elf".
Next, the Elf and Santa both go out and choose their 4 cards.
When they come in, they each give a different student the four cards.
Then, those students take turns playing their rhythms.
The game continues until everyone is an "Elf".
What to do if a student can't play the rhythm pattern?
The teacher could be the "Chief Elf" and help the student-because he desperately needs elves!
Give them plenty of opportunities to get it right.
Model the pattern.
Have a buddy help them.
The game is to practice rhythms-not exclude students from becoming an elf.
I love to play the games and then do a movement activity.
HOLIDAY MOVEMENT ACTIVITIES
I use the Holiday Freeze Dance or Holiday Scarf Movement Activity from the Sing Play Create YouTube Channel.
HOLIDAY FREEZE DANCE
HOLIDAY SCARF DANCE
Or, you can purchase these holiday movement activity materials here:
I am hoping this gives you some ideas for your December music activities.
Be sure to SUBSCRIBE to this NEW CHANNEL
And go to www.singplaycreate.com and SUBSCRIBE to the FRL and newsletter.
More Holiday Free music class activities from the Sing Play Create Resource Library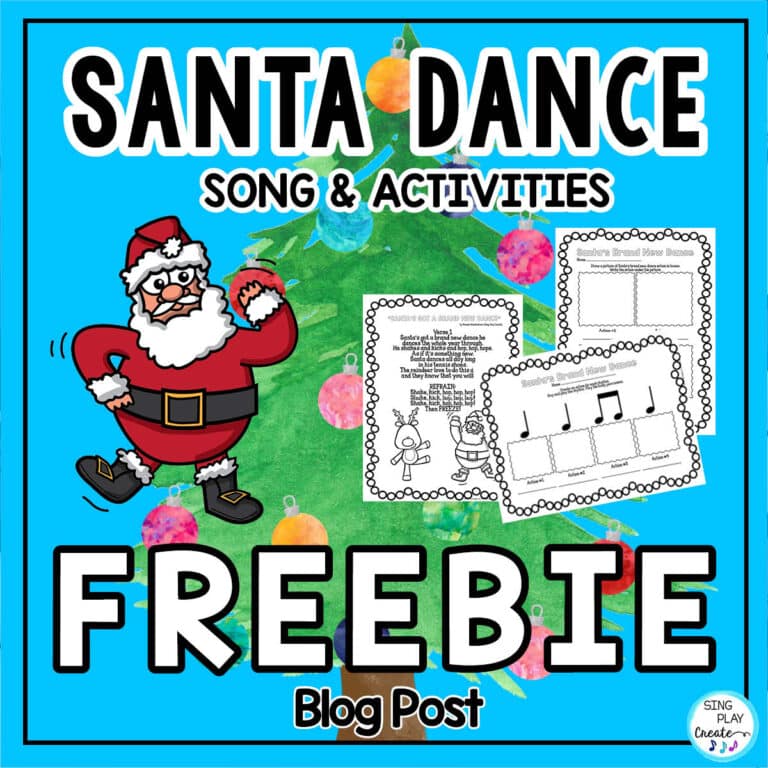 Looking for steady beat and rhythm activities for your music classes?
Thank you so much reading the blog today!
Happy Holidays!