It's the first day and many teachers as well as students are nervous. Today I'm sharing 5 Tips for the First Day of School in Music Class to help you and your students have a great back to school experience.
5 TIPS FOR THE FIRST DAY OF SCHOOL IN MUSIC CLASS
TIP #1 SMILE
You can go "extra" and wear bright colors, some funky glasses and a hat.
Or, you can greet your students with a smile.
It's the first connection your students will make with you.
Smiling helps keep you calm too. Breathing and smiling during the day is shown to boost mood.
Since we're teachers, we want to boost everyone's mood and so it's up to us to get it started.
Smiling will show your students you care about them.
Smiling also helps when you have to work through challenges throughout the year together.
TIP #2 SING
Singing is another activity that boosts mood. Not only will it help you, but singing together as a class will giveeveryone something to smile about.
Just a thought…but why not sing your hello songs as well as your procedures and your rules?
It's a great way to get everyone back into music land.
I share some hello songs in this video: https://youtu.be/0Xa4xJaOvbI
We all know that there will be sometime during the school year when we'll lose our voice, or get sick.
So, it's a good idea to come up with some signs, hand actions and gestures to direct students to save your voice and keep them watching you.
Stand up-raise hands
Sit down- hands down
Everyone -roll hands
Get their attention: Touch your nose, ears, shoulder- a body part until everyone is paying attention.
Consider making a video of yourself teaching these things that you want to use in each grade so that you don't have to repeat yourself all day.
IMAGINE HAVING ALL THE SONGS, GAMES AND ACTIVITIES READY TO GO FOR THE FIRST WEEKS OF SCHOOL!
The SING PLAY CREATE MUSIC TEACHER BASIC ESSENTIALS has the hello songs, chants and games for that first month of school and beyond that you can use to create your classroom culture and establish your classroom procedures.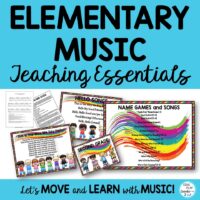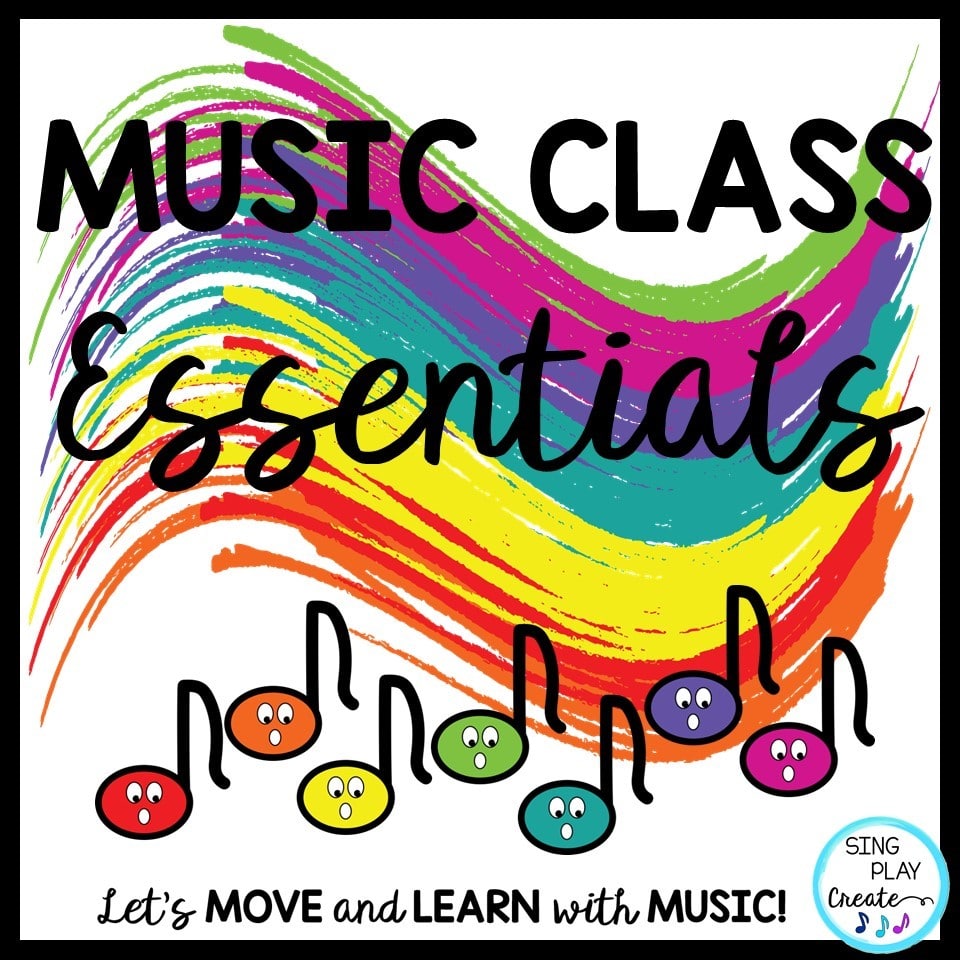 Elementary Music Class Resources for Management & Procedures Songs, Chants, Games, Activities – the Essentials for the elementary music teacher! Songs, Chants, Games, Sheet Music and Rules
TPT Elementary Music Class Essential Songs, Chants, Games, Back to School
WEBSITE SHOP LINK : Elementary Music Class Essential Songs, Chants, Games, Back to School
HOW IT BEGAN
When I first started teaching, I had a guitar and a list of children's songs.
During the first year, I realized I needed a set of materials that I could use every year and that classroom
management was a big part of helping students have musical experiences.
That's why I created the Music Teacher Resources Kit with over 55 SONGS CHANTS AND ACTIVITIES to help you with classroom management, procedures, classroom environment and first day activities.
These are easy-to-learn songs and chants to teach your students the rules, procedures and create a warm and welcoming classroom through music and movement activities.
Having a standard set of materials that I can use every year saved me a lot of time and stress because I just had to pull up the power points for each grade to be ready for the first day of school.
I didn't really have any lesson prepping to do!
I organize my lessons by grade level. So I just copied the pages into the grade level presentations and was ready to go!
Diversifying each grade level also was a great time saver because I had a different set of activities for each grade.
When students came back the next year they experienced a new set of activities.
There are enough activities in this resource for you to easily diversify your activities.
Some of the management songs I used K-2 which helped me with classroom management because the students knew the songs from Kindergarten and then knew the rules and how to do things in the music room.
Having this set of materials saved me from spending hours prepping for the first day of classes.
TIP #3 USE PROPS
I found that student engagement goes up whenever I use a puppet or a stuffed animal. I have these easy to use small puppets in my classroom and use them to teach all kinds of music concepts. Use my affiliate link to check them out.
FIVE PIECE ANIMAL HAND PUPPETS WITH OPEN MOVEABLE MOUTH (Amazon Affiliate Link)
It's really fun to use props in the younger grades to teach your rules and procedures.
I made some Free puppets for you to teach the four voices, sing, speak, whisper, shout.
Using props keeps our visual learners engaged.
These are some other props you may want to consider purchasing for your classroom.
BEAN BAGS
I share ideas for bean bag activities in this video.
These are 4 inch bean bags.
CLASSROOM INSTRUMENTS
I personally like REMO DRUMS. They really hold up. I have used them over 20 years!
SCARVES
And if you're teaching Kindergarten music, you'll want to check out this video with BTS scarf movement
activities.
STUFFED ANIMALS
Many teachers use small beanie babies in their classrooms as "beat buddies". I've had great success with this idea.
The children also like to make up little sound stories using the animals along with instruments.
If this is too overwhelming, pick one thing you'd like to try this year and experiment with it.
If I was to choose one thing to start with, I'd go with scarves first. They are very versatile.
I've used them for movement, but you can also make them into a shape, like a fish for carnival of the animals.
They can show weather and emotions, help students with teamwork and expression and teach dynamics.
I share my scarf ideas on TIK TOK/IG & FB
STAR WARS ROUTINE:
MAKE A FISH
And if you're teaching Kindergarten music, you'll want to check out this video with BTS SCARF MOVEMENT ACTIVITIES.
GET THE FREE SCARF ACTIVITY WHEN YOU SUBSCRIBE
TIP # 4 GAMES
Play games as part of the first week activities so students have a chance to laugh, play and be part of a group.
I found that my upper elementary students really like interactive games.
I share some upper elementary first day activities in this video
Get to know your students and create a community of learners using the "Get to Know Ya" Rhythm game
Kick start your school year off to a great beginning. Teach quarter notes and eighth notes for the Level 1 and sixteenth notes in Level 2.
Students love the catchy "get to know ya rhythm" phrase in the game and in the create your own rhythm activities.
In class or online, you can use these materials to get to know your students and get them back into music land reviewing and learning rhythms.
GET THE RESOURCE
TPT: Music Class Chant, Game and Rhythm Lesson: "Get to Know Ya" Lesson 1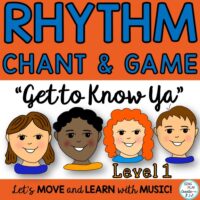 WEBSHOP: Music Class Chant, Game and Rhythm Lesson: "Get to Know Ya" Level 1
TPT: Upper Elementary Music Class Chant,Game and Rhythm Lesson: "Get to Know Ya"
WEBSHOP: Upper Elementary Music Class Chant,Game and Rhythm Lesson: "Get to Know Ya"
MORE GAMES
Another fun game that will have your students singing and getting to know each other is the "Apple Tree" Music Lesson with a Game.
Elementary music class is more fun when you sing and play games. You'll be able to sing and play this original game song "Apple Tree" on the first day of class. You'll be able to learn your students' names as they chant/sing and chase each other using this fun set of activities.
Play the game and review or teach Sol -Mi and beginning Orff instrument playing.
Play the game to learn student names.
Learn skills with the rhythm practice pages. Perfect for K-3 students.
"Apple Tree" (original) song and game will help elementary music teachers to teach, review and assess so-mi-la, sixteenth note rhythms and review quarter and eighth notes.
Students love the easy-to-play Orff arrangement and exciting game as well as the practice worksheets and flash cards.
The game is perfect for Back to School activities to help students learn the names of their classmates or to play throughout the year.
This resource includes lessons for an entire unit. Perfect for grades 3-5.
I share more ideas for K-2 First Day activities in this video:
TPT: Music Lesson: "Apple Tree"(so-mi-la) Sixteenth Note, Game, Worksheets, Video Mp3
WEBSHOP: Music Lesson: "Apple Tree"(so-mi-la) Sixteenth Note, Game, Worksheets, Video Mp3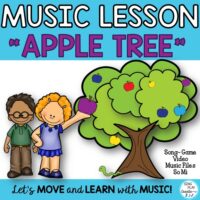 TPT: Music Lesson: "Apple Tree" So-Mi, Activities, Worksheets, Mp3
WEBSHOP: Music Lesson: "Apple Tree" So-Mi, Activities, Worksheets, Mp3
After singing and playing games it most likely is time to BREATHE!
And that's my tip #5
TIP # 5 BREATHE
Teachers need to practice breathing and transitioning between classes too.
Have a planned breathing or calm down strategy can help you regain your calmness in between classes or when dealing with a difficult situation.
Transitions are difficult for many students too.
Come up with some easy to do on the spot movements that will help your students keep calm and learn on- Here are some ideas for quick transitions:
Have students walk in a circle as they sing the goodbye song or a calm down song.
Do Yoga: Tree Pose
Hum a tune- pick a favorite nursery rhyme and hum or ooo the melody. Teach students that when they hear that song it's time to hum and breathe.
Arm wrap- cross arms and hug yourself. Close your eyes and take a big breath.
Clap after me- clap rhythms to get attention, clap softer and softer until just using your two fingers to tap the rhythms then just play the beat.
Scarf movement to "TWINKLE, TWINKLE" little star.
Pat your head, your cheeks, your chest, your arms, and hug and breathe.
These are tips I've learned over the years and hope they will help you too.
The first day of school can be overwhelming and my goal is to help you navigate how to prepare and also succeed on that first day.
I've found that these five things are important to have your classroom run smoothly.
1 SMILE
2 SING A SONG
3 USE PROPS
4 PLAY GAMES
5 EVERYBODY BREATHE
Even though I've talked about how these are important on the first day-they are important for every day.
Greeting students with a smile can set the tone for your classroom.
Singing boosts mood and encourages us to connect.
Using props in the classroom whether puppets or instruments will help your visual students. And, if they are instruments, scarves, bean bags or beanie babies, they will help your students stay engaged and have fun too.
Playing games is one way to keep students engaged, especially in the upper elementary grades. It also helps build community and develop social skills.
Planning time to breathe and transition in each class time will help pace your students and help with classroom management.
Planning time for you to breathe will help with personal motivation and attitude to keep going throughout the school year.
There's room for adding new activities each year, but the point is to establish a set of standard or core activities to create the structure to your first day activities year after year.
If you're looking for more ideas – In this video I share 10 back to school activities you can do with no prep.
I'm hoping that these 5 TIPS FOR THE FIRST DAY OF SCHOOL in MUSIC CLASS help you have a wonderful school year!
Thanks for reading this post!