I'm feeling pretty humble right now and very full of gratitude. I started my TPT store 1.5 years ago and just passed a milestone 300 Followers. So to celebrate I found this cute Duck Picture with it's little baby duck followers to announce my Back to School Thank You Sale.
All store items are 20% off.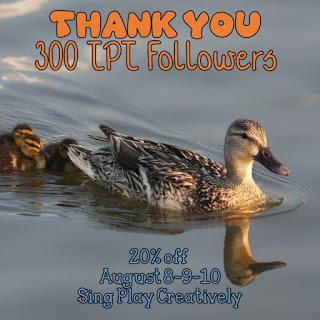 If you're still looking for some fun ways to decorate your classroom, check out my new Around the World Posters, Games, Songs, Chants that will help any music teacher get a good start on the school year.
Or my regular Music Classroom Bundle of Songs-Chants-Games and Decor
And for the Elementary Classroom Teacher, you might want to check out:
It really does have all of the following things in it and you can use it all year long-year after year.
Need Games? Songs? Chants for classroom management? Establishing classroom community? You need: ELEMENTARY CLASSROOM BACK TO SCHOOL BUNDLE *GAMES *SONGS *CHANTS *BRAIN BREAKS
ACTIVITIES you can do with Common Core Subjects too!
65 Total Activities that you can use with NO PREP!


Everything an ELEMENTARY SCHOOL CLASSROOM TEACHER needs to build CLASSROOM COMMUNITY, LEARN NAMES, and have BRAIN BREAK ACTIVITIES ready with NO PREP.
You can learn the songs and games with your students. Just print or project and you can instantly have your class singing, playing games and doing fun activities.
You get a poster size and a printable flash card size for all activities.
All the songs have MP3 VOCAL AND ACCOMPANIMENT TRACKS.
GREAT materials for Substitutes and Rainy Days.
*********************************************************************
NAME GAMES CHANTS AND SONGS:
You Get:
15 GAMES & SONGS POSTER AND CARD SIZE
All Chants and Songs are easy to learn-you don't need to be a music teacher to use them.
You can print, laminate and place the small cards on a ring and you are set for the whole year with songs and activities that will help you learn names, establish routines and connect with your students.
Games and Activities can be done anytime for Brain Breaks, Rainy Days.
USE THE GAMES AS SUBSTITUTE LESSONS!
Burn the mp3's on a CD and leave the printed pdf file in your emergency plans.
Mp3 Vocal's of All Songs
Sheet Music
Directions included on Cards
*********************************************************************
BRAIN BREAKS:
25 ELEMENTARY SCHOOL
TEAM BUILDING BRAIN BREAKS AND GAMES
NO PREP!
POSTER SIZE FOR PROJECTING OR PRINTING
2×3 CARD SIZE FOR EASY REFERENCE.
Print, cut, laminate cards and attach to a binder ring for easy access. Hang on your board, wall.
Let students choose or use as classroom reward system.
Scores get applied to groups, individuals or teams on the classroom. Use as rewards for good behavior, rainy days, or as brain breaks.


*********************************************************************
CLASSROOM MANAGEMENT
22 CLASSROOM MANAGEMENT
CHANTS ,SONGS, POEMS
Lyrics –Mp3 vocals & Accompaniment Tracks
For Standing, Sitting, Lining Up, Getting Quiet,
Brain Breaks and Stretching.
POSTERS and FLASH CARD SIZE
7 CLASSROOM Rules
4 TEAM BUILDING GAMES
PRINTABLE ready to use ADAPTED FOR Grade Levels K-6
Product comes in PDF
*********************************************************************
THIS BUNDLE COMBINES 3 PRODUCTS.
If purchased separately they would cost $13.00
As a bundle you get them for $10.00
Mostly, I want to say thank you for the opportunity to create fun, innovative and useful products for you to use in your classroom. I believe that children learn best when, moving, singing or playing!
Have a great Back To School and enjoy the hugs and smiles from the children.
Sandra