Are you looking for ways to  integrate composer lessons into your curriculum?  John Williams is a fun and easy composer to teach about in music class.  In fact, thanks to the "Star Wars" saga, I've noticed a lot of enthusiasm and relevant learning going on right now during music class. And, if the kids are excited about the material, it's a no-brainer for the teacher!  I can teach that! So here are some activity ideas to help you put together a John Williams composer lesson.
JOHN WILLIAMS COMPOSER LESSON ACTIVITIES
Consider all the Music elements I can incorporate into the lessons using John Williams movie music along with music movement and activities.  It will be easy for students to learn and reinforce student skills in Music Elements such as DYNAMICS, TEMPO, FEELINGS or EXPRESSION.
More specifically, concepts such as STEADY BEAT, RHYTHMS,  LOUD/SOFT, FAST/SLOW and INSTRUMENTS of the ORCHESTRA.
There are so many different types of activities you can do with the Music of John Williams.  Because I know that the more relevant the lessons are for  my students, the more learning and retention will happen, I'm taking advantage of using the "Star Wars" music as a starting point for my lessons about John Williams. Take a look at some of the activities I did with "Star Wars" music.
LESSON ACTIVITY IDEA #1 SHOW ORCHESTRA INSTRUMENTS
I start the lesson showing this video. This video features John Williams conducting the opening theme of "Star Wars" with some unexpected guests, who get a lot of ooo's and ahhhh's!
I've got everyone's attention now!
LESSON ACTIVITY IDEA #2 SHOW VARIATIONS ON A THEME
Next, we watch  "Cello Wars" by the Piano Guys.
Ask your students to pay attention to how the music sounds different, what instruments are played and if the action in the video makes a difference?
Discuss the difference between the two presentations.
SOME QUESTION IDEAS:
How was the music different?

What did you hear?

Which one was your favorite?
LESSON ACTIVITY IDEA #3 SHOW MUSIC CONCEPTS
To illustrate how to implement movement with teaching concepts, here's a fun idea!  I have my own personal set of light sabers.  I made them from pool noodles I got on sale at the end of the summer season. All of them are yellow.
Without saying anything, I'll pull out a "light saber" and wave it around saying things like "down with Darth Vader", "glory to the Republic".
You can imagine the response you'll get from your students. I got a lot of "ooo's and yay's" as I passed them out to everyone.
SHOW THE BEAT
Specifically, I showed the students how I wanted them to play the beat  and then set some up parameters to our listening activity.
I asked students to tap their sabers on the floor on the beat.
When there was no clear steady beat, I asked the students to freeze (like during the parts of the music when there are sound effects).
Main Title
SHOW FAST AND SLOW
Next, use a variety of listening examples to help student to show fast and slow.  Instead of tapping, I had them wave the Light Saber in the air to express the sounds through movement (fast/slow).
SHOW LOUD AND SOFT
LOUD: DUEL OF THE FATES
SOFT: Yoda's Theme
LOUD AND SOFT: The Imperial March
SHOW THE RHYTHMS
Next, using a Rhythm Activity power point I made from some Clip Art that I purchased on Etsy. (I am in no way affiliated with this artist. Since the graphics are copyrighted, all I can do is share the link with you.)
Vivispartyshop
. Here is the 
LINK
. ( I have now put these rhythms in a resource!  You'll find the Link at the end of the article.)
We play some "Star" Rhythms.
By the way, I use CELLO WARS for this activity!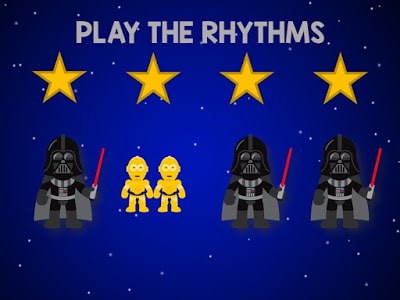 If you're looking for Star Wars music for your own classroom collection, you can find it on Amazon:
This is a collection of all of the music.  It's easy to find the music for each movie separately.
And the music for CELLO WARS by the PIANO GUYS
LESSON ACTIVITY IDEA #4 MOVEMENT ACTIVITIES
Using a variety of music that I've previously purchased, I then had the students participate in a movement activity.
I made a power point with each character representing a different kind of activity.  (You can now purchase my product version at the TpT Store)
 Each page had a different action on it. For example:
Princess Leia – TWIRLED
Hans Solo – SWISHED ARMS
The students especially enjoyed this activity as it was just a bit different than their normal "Freeze" Dance. I'd love share that one with you–but I can't due to copyright laws.  Feel free to check out the links yourself.  It's not hard to create. It comes with the star backdrop.
I fell in love with these activities and so did my students. So, I created a product that has all of the Activities and Lessons with Directions, teaching pages and Action/movement pages.
Over 100 pages of Galactic Music Fun!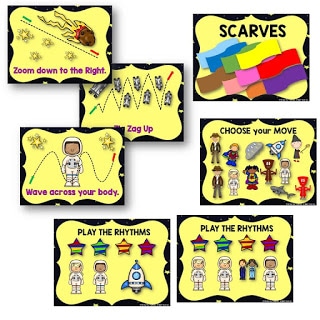 I hope your John Williams composer lessons are as fun for your students as they are for mine!
Check out these other Creative Movement Blog Posts!

If you like movement activities as much as I do-then you'll like reading these ideas about Bean Bags!

Like this post?  Please share it with your teacher friends.