I don't know about you, but I dread returning Monday morning after the holiday break. Over the year's I've accumulated some teacher tips that I think are essential for a smooth start to the New Year- literally.
Ok- It's not the students-It's not the teachers-It's not the job-It's me freaking out whether or not I'll REALLY be ready for the whole first day. Yes, I have my power point ready with all my lessons! Yes, I have my lessons planned! Yes, I cleaned up all the Christmas and Holiday decorations! And, Yes, I have my snowman decor out–it's just that first day trepidation of churning 150 students or more through my doors the first day back, knowing what's lies ahead between now and the next break and it all get's into one pile in my head and I do get a bit stressed out about it.  Maybe this isn't you at all–maybe you don't worry about anything! Hurrah!
If you do have some trepidation-for whatever reason-here are some teacher tips to help you out.
TEACHING TIP #1 SMILE AND MAKE THEM FEEL WELCOME
I try to memorize all of my students names. When we return from the break we sing our hello song at the beginning of class and then I sing all of their names again. This helps me and then to re-connect. I take my chart with me and walk around the room and look at them as I sing their name. I tell them I want to make sure I've got them all right here in my brain. They smile and this helps them feel safe again in my room and welcome. I'll also get out my winter puppets to help me.
Read more about how I use puppets here: "Why I Use Puppets in Music Class".
TEACHING TIP #2 REVIEW RULES AND PROCEDURES
I have a fun song that we sing about personal space. I just pull this out for a review once in a while.
It goes to the tune of "If You're Happy and You Know It"
Keep your hands, feet and words to yourself! Clap, Clap
Keep your hands, feet and words to yourself! Clap, Clap
If you want to be NICE then follow this ADVICE.
Keep your hands, feet and words to yourself! Clap, Clap
And I go to my rules board and point out as I review the rules.
TEACHING TIP # 3 PLAY A GAME
I like to play some kind of game with my older students and give them a chance to share a bit about their holiday vacation.
I made up some fun snow themed games. 
Or, Here's a simple one you can use with a bean bag or a ball.
Have everyone sit in a circle.
Explain that everyone is going to get a turn to share something about their vacation. Ask students to come up with an idea that describes their favorite activity in 1 or 2  words. See the examples below.
Pat the steady beat on your knees.
Teacher begins with the bean bag.
Everyone chants:
Where do you go?
What do you do?
When you're at home and not at school?
Toss the bean bag to someone at the end of the chant. That person gives a 1 or 2 word answer.
Here's some fun examples:
Keep playing the game until everyone has had a turn.
Download this fun game at my store–Don't forget to follow me here and at the store.
Most of all I think it's important to connect with students again by making them feel like they want to come to the music room. You may feel a bit scattered or wishing you were still home in your P.J.'s, but if you do these things-then it will help you too get back into the swing of teaching. What are your favorite activities to do?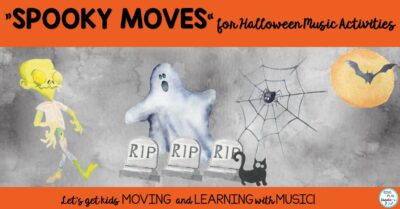 Get ready for some spooky moves when you show your class this Halloween music video. "Spooky Moves" for Halloween music activities can be the core
Read More »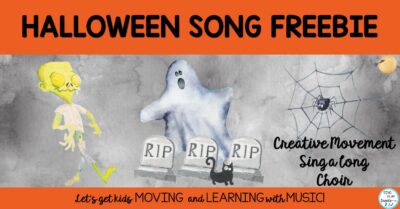 Halloween week is coming soon, so I'm working on gathering my Halloween songs and coordinating my creative movement activities. Music class during Halloween week is
Read More »
How do you teach high and low to your music class students? I think most music teachers would agree that the best ways to teach
Read More »