I've noticed that many teachers are implementing more and more procedures and activities that
help promote an atmosphere of caring and kindness in their classrooms. Why?
I think that the
hustle and bustle of life is pretty stressful for all of us-but especially for
kids. From getting up in the morning, going to day care-then being dropped off
at school, back to day care and then home to a quick dinner and then bed
time-or an evening of sports and other activities creates a sense of urgency
and business in their lives- and in ours.  Sometimes my head just spins at what some of my
students are doing every day! I think we can all agree that the world is moving
much faster than before and sometimes little feet, brains and hearts can't keep
up! That's why I decided to put out some ideas on how to make February a month of Kindness through music activities.
THE SWEET SPOT
YES!
I think that February
is the perfect month to share some ideas on how to put
put a little "kindness"
in your classroom because we're in the sweet spot of the teaching year. We made it past the holidays and we're just closing in on testing time. So now's the time to reaffirm the importance for everyone to be KIND!
 I reflected on how to be more kind-
LISTENING
I've changed the
way I teach quite a bit over the last few years. I'm spending more time
listening to my students and trying to understand what's going on in their
lives. Their world is pretty different from the one I grew up in-and so I find
that if I listen to what's happening in their world I can relate to them
better.
SHOWING
I like to think
that I am a kind person. And I'm not sure if my students would describe me as
such or not-but I've been focusing on one student in every class to try to make
them feel extra special that day. It'd be great to make the whole class feel
special-and I use many of these tools all the time-but I've given myself a
challenge to focus on one student every class time. It might be more personal
attention and help with fingering during ukulele's. Or it might be a quiet compliment
as I monitor the room. It could be pulling that student aside and just talking
and listening to them. It depends on the lesson and activity. I've been really
paying attention to my quieter students too. It's very rewarding and keeps the
whole class calm and focused because they see me working with another student
and then realize they need to be working too.
If you didn't watch my TRANSITION IDEAS video, you'll want to get those ideas because I demonstrate some effective "showing" ideas.  TRANSITION IDEAS HERE.
ENCOURAGING STUDENTS TO SHOW KINDNESS:
I love to give out stickers! I give them out spontaneously when I see something happen that is GREAT! It could be a student following directions, being kind, doing good work, helping out, smiling, being quiet, lining up right. I just stop and say "wow! That is so awesome that you…… you need to go grab a sticker!" The kids love it and I have EVERYONE'S attention back on track.  There's lot's of ways to encourage kindness, but mainly, I think by acknowledging that it has just happened is a key element of bringing more kindness into the classroom.
3 MUSIC CLASS ACTIVITIES
In the music room, there's so many fun activities you can do in the month of February to encourage kindness-
You can create whole lesson plans on kindness, or just add in a few activities here and there to help students along.
IT'S EASY!
You can add some of these fun activities into your regular lessons and you'll be on your way to encouraging kindness.
KINDNESS SONGS
I've created a special VALENTINE'S DAY PLAYLIST to help you out with your February lessons. You'll find a nice selection of songs for the week of Valentine's Day.
"Love Somebody" a song from the southern mountains, shared on the Smithsonian Folkways website. Authentic music sung by Jean Ritchie.
CLICK HERE TO LISTEN TO THE SONG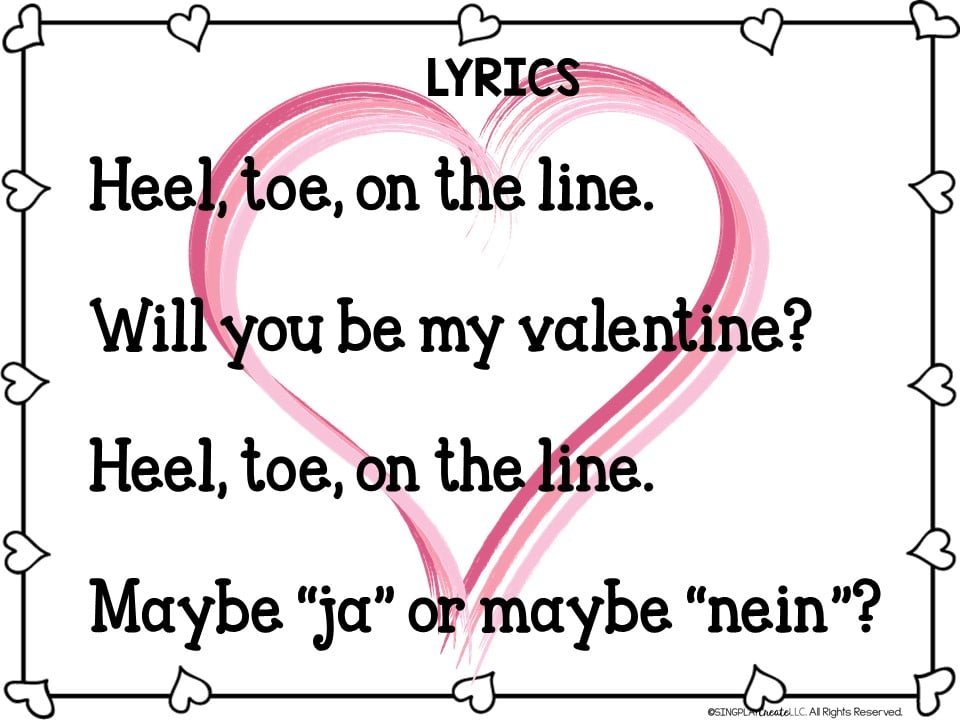 Here's a friendship song I wrote that my first graders love to sing.
KINDNESS GAMES
1 – Use your current reward system to give out extra rewards when you hear a compliment! I give out stickers. Try points, privileges, free time, wrist bands, or treats. Or, print and copy this freebie reward ticket! Or, play this easy game!
2- Bean Bag Game: Pass the bean bag around the circle to some fun "friendship" music. When you stop the music, whoever has the bean bag get's to pay a compliment to someone in the classroom. Quick and Easy to play.
KINDNESS MUSIC ACTIVITIES
Use this FREEBIE  composition activity during the week of Valentine's Day. It's best for K-3rd grade.  You can find it at my TpT STORE.
MUSIC CLASS
COMPOSE A VALENTINE SONG
USING A COMPLIMENT AS INSPIRATION:
FREE FEBRUARY GAME SONG TO ENCOURAGE KINDNESS
And you HAVE TO READ THIS POST because it's full of FREE KINDNESS MUSIC CLASS IDEAS 
All you need to do is to SUBSCRIBE for access to all the free resources in the library and each month you'll receive a new resource. SUBSCRIBE HERE
When you've encouraged your students to be kind the whole year, and you've treated them with kindness, you'll have a relationship with your students and THAT will help you get through the last month of school. Trust me- it will help you. Please share these ideas in your favorite social media.