I love scarf activities! It could be that the colors remind me of a rainbow, and who doesn't like rainbows?  Or, it could be that the scarves and the movement reminds me of when I was a kid and I'd fly kites with my dad. Why do I like to use scarves as part of my music class lessons? Can you believe I've used them in extension activities, to teach music concepts, in plays, in programs and I've even put my scarf activity cards in the Sub Tub. And that's why I'm writing about why scarves are an essential tool for the music classroom. Not sure?  Keep reading to get 8 ways to use scarves in the classroom today.
8 WAYS TO USE SCARVES?
Yes! Creative movement is the top way to keep your students engaged. Why not hand them a scarf as they walk into your classroom?
WHY USE SCARVES?
EVERYONE CAN USE THEM!
I'm always amazed by the fact that the children are truly fascinated by a piece of sheer fabric. As soon as I hand them out, students begin to fold, roll, and wave the bright shiny scarves. They love the colors, the texture and the fact that you can see through them.  I myself remember being in awe of any fabric that glittered or was sheer or silky.
And, I know that Preschool, P.E. , Special Needs and Music teachers love to use them in their classrooms. So I came up with a list of eight ways to use scarves in the classroom.
Keep reading to get all 8 ideas for using scarves in your classroom , and some great song choices.

Keep reading to get the FREE SCARF ACTIVITIES BOOKLET.
Scarves can be used in so many fun ways to enhance your creative movement activities and make your lessons more interactive.
If you want to add some color and variety to your lessons, try using scarves.  They can be a great addition to any classroom.  Music, P.E., Drama, Preschool, Elementary Classroom, Special Needs, Reading and other specialty classrooms will benefit from using scarves.
WANT TO KNOW WHY?
You'll want to read my CREATIVE MOVEMENT BLOG POST LINK
Because I explain in detail why creative movement is so important to student learning.
And-
CREATIVE MOVEMENT
– is a natural way for children to respond to music.
-is how many children learn.
-makes aural sound more real.
Here are some more reasons why scarf activities are important to incorporate into your music, movement and literacy activities.
When children make BIG movements with arms and legs, they are encouraging the development of gross motor skills.
Children are more apt to follow directions when they SEE and HEAR directions.
Help them develop good reading skills with CROSS BODY MOVEMENT.
Strengthen their ability to form letters and shapes and understand directional concepts.
Movement encourages artistic and creative thinking.
Let's Get to the 8 WAYS TO USE SCARVES IN THE CLASSROOM (and the FREE RESOURCE)
1. MOVEMENT ACTIVITIES WITH SCARVES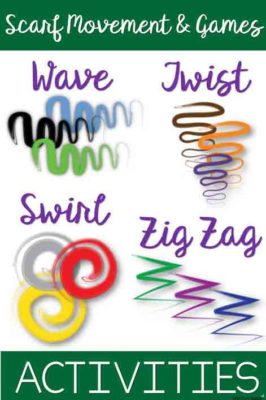 I feel it's important that my students are listening to Classical music as much as possible. I love watching their faces-the surprise- when I play it for activities. One way to use scarves is with classical music. It's such a great way for them to have the experience of listening and moving which will make it more memorable because you are giving them opportunities to listen and move at the same time.
SWISHING
Swishing is a great cross-body movement action. How about swishing like: windshield wipers, washing windows, clock pendulums, steady beat movement. Or, showing "side to side", "here and there", "me and you".
I've created a series of Scarf Activities on our YouTube Channel.
Here is one of the top watched scarf videos!
Kids love pirates.
WAVING and MARCHING
I love Patriotic Music and scarves are perfect for students to wave around as they sing, move and/or listen to John Phillips Sousa Marching band music. This is a complete playlist of music to march and move.

IMITATE NATURE: BEES-BIRDS-BUTTERFLIES
Rimsky-Korsakov "Flight of the Bumble Bee"
RAINBOWS
Make a rainbow to show the benefit of working together. This activity pairs nicely with songs like; "Sing a Rainbow"
"Over the Rainbow"
The official Israel "IZ" Kamakawiwo?ole
DROP THE SCARF GAME
This is a traditional game song from China. Lovely dancing and how to play the game.

And of course, there's the traditional chasing, relay and passing games like;
HOT POTATO

DUCK, DUCK GOOSE

DOGGIE, DOGGIE WHERE'S YOUR BONE

RELAY GAMES
2- TEACH MUSIC CONCEPTS WITH SCARVES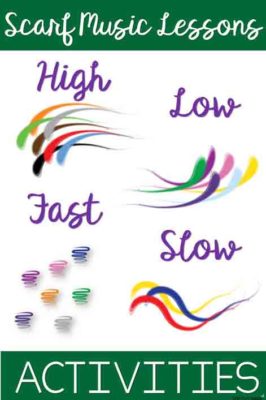 Here's some things all music teachers know:
You can definitely teach; TIMBRE, TEMPO AND EXPRESSION. Think loud/Soft, Fast/slow, Long/Short, Happy/Sad, Thick/Thin using scarf activities.
Here's How:
Demonstrate HIGH/LOW.  I like to get out the scarves when we do vocal explorations in our music class. The students love to move their scarves up and down to demonstrate High and Low.

Show LOUD/SOFT.  How about using scarves with your Peter and the Wolf Lessons?

TEMPO can be demonstrated too! Pretend play is an excellent way to get your preschool through second graders to understand and show music concepts. How about pretending the scarves are rabbits and turtles (fast and slow) and have them move to the music. When the music is slow, the turtle scarves move, when the music is fast the rabbit scarves move.

You could ask students to move with their scarves or have them do the activity sitting on the floor. Ask the students to come up with their own animal "TEMPO" and have them share with their scarves.

And of course,  FAST/SLOW.  Pretend to be "BEES" to teach Fast/Allegro  "Flight Of The Bumble Bee", Rimsky Korsakov  and "Carnival of the Animals" Camille Saint Saens.
And this is why you'll want to enter the BLOG POST GIVEAWAY THIS WEEK! April 28- May 4th ONLY for the FREE BUGGY SCARF RESOURCE AND FREE SET OF SCARVES!
I've created an entire series of scarf activities you can use in your classroom.
Go to the Sing Play Create YouTube Channel and you'll find thematic scarf activities for every season.
Here's a fun one with ANIMALS!  You can use this one any time of year.
And, it's perfect for MUSIC CLASSES to teach HIGH/LOW AND LOUD/SOFT.
ANIMALS SCARF ACTIVITY
In addition, the resource comes with activities to teach those music concepts.
Here are some of my favorite classical pieces.
CLASSICAL MUSIC RESOURCES  I've create a YouTube Playlist! CLICK THIS LINK TO GO TO YOUTUBE-
Wedding March, "A Midsummer Night's Dream" Mendelssohn- flowing and swishing moves

The Comedians Gallop, Dmitry Kabalevsky- jumping-hopping moves

You can find more of these songs on Youtube or the sound files on Amazon.com
Peer Gynt "Morning Mood", Edvard Grieg for calming down-

The Nutcracker-March- Marching and Follow the Leader
Mozart-The Magic Flute- Quick-short movements

The Marriage of Figaro (selections)- Fast walking or arms waving
Beethoven-Symphony #9 Big swishing, zig zagging, circles, waving moves
(Leonard Bernstein)
Tchaikovsky-Swan Lake Op. 20 – 10
Tchaikovsky: Nutcracker – Act 2: Waltz Of The Flowers Bouncing- little movement

Broomsticks and Fire, Alexandre Desplat (Harry Potter Movie) Tossing, waving, circle movement

(I like to be transparent so-If you click on the links-I do get a small kickback if you purchase something)
Just click here to find all of these music selections.
or
Classical Music Amazon Link
In the Free Resource you'll find movement cards with activity ideas that you can use in your music classroom.  SUBSCRIBE HERE
3- STORY TIME AND DRAMA WITH SCARVES
Have the students hold their scarves in one hand and then hold the scarf of the student in front of them to make a chain. Perfect for train songs and activities and teaching students how to walk in line.
Make puppets out of the scarves by scrunching them together with a little puff sticking out the top for the "head" of the character. Let students create or act out stories with their puppets.
Allow students to use the scarves as costumes and props. How about using them as capes, skirts, belts, and crowns ?
Try having students use their scarves with smartboard or big screen activities, or even as they read words or posters. Ask students to use their scarves to follow the words across the screen.
Same thing here, you can have them follow along or bounce on the words as they read and/or sing them.
For Drama and pretend play, use the scarves as part of the scenery, props and costumes in a play.
Wind- blue scarves moving up and down.
Water- Two students holding each end of blue scarves wiggling across the floor.
Mountains and buildings-Brown scarves
Animals- use more similar colors
Rain and Snow- Tossing scarves across the stage.
Use the costume ideas and props ideas from the literacy section.
Use this video-Ocean Animals Scarf Activity to help students get some ideas for their play.
Waves- Blue
Animals- Any color
Island or Sand- Brown and Beige
Sunshine- Yellow
Have the students tell about their favorite animals in Ocean Friends Scarf Activity!
4- PERFORM WITH SCARVES
Create movement patterns using the scarves, for each section of a song that your group is performing.
A SECTION-  SWISHING OVERHEAD
B SECTION- BOUNCING FROM SIDE TO SIDE
C SECTION- HOLD THE SCARF IN TWO HANDS WITH THE SCARF STRETCHED BETWEEN TWO HANDS. MOVE UP/DOWN AND SIDE TO SIDE ON THE BEAT OF THE MUSIC.
(OR, LET STUDENTS CHOOSE A MOVE)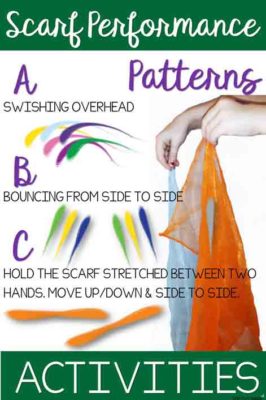 5- CONNECT MATH AND READING TO MUSIC WITH SCARVES
After all, when you incorporate directional moves that will have students moving across the mid-line of the body,  you're helping them learn to read too!
Try having them move from left to right (like reading) and tracing numbers and shapes.
You might want to look at my SCARF VIDEO RESOURCE that specifically connects MATH and MUSIC with MOVEMENT.
Students love to count along with the video and name the shapes as they draw them in the air with their scarves.
6- CLASSROOM MANAGEMENT WITH SCARVES
Why not use a scarf to conduct your younger aged students?  Let students take turns using a scarf to "lead" the group in songs the class is working on for a program.  Use a scarf as a "silent cue" to let students know that you need their attention, it's time to clean up, it's time to link up, it's time to change stations.
Make a rainbow to show the benefit of working together. This activity pairs nicely with songs like; "Sing a Rainbow"
7- ORGANIZE ACTIVITIES WITH SCARVES
Pass out the scarves and then group your students by color.
Allow them to tie the scarves loosely on their wrists or around the waist to keep track of teams.
Use the scarves to organize stations and activities.
8- FIDGETY FINGERS LOVE SCARVES
This tip is to help those students who have difficulty holding still and being quiet.
Try giving them a scarf and have them play with it during " listening time". Use quiet music and allow NO TALKING. You can take the scarf away if it doesn't work for them.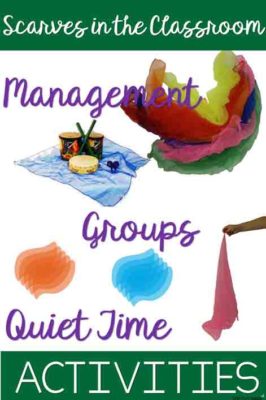 NOW WHAT?
You may be looking for creative and diverse ways to use the tools and props you have on hand in your classroom. That's why I've been compiling a list of Fun Scarf activities you can use in your music class.
That's a lot of information and how does it apply to your classroom?
I'm naturally inclined to use creative movement-but if you struggle with it-or don't know how to integrate it with your current curriculum, keep reading to find some great tips.
READ THESE BLOG POSTS:
Creative Ways to Teach the Steady Beat
JUST THINK! These are FREE tools and activities you can use in your classroom TOMORROW.
And if you SUBSCRIBE to the FREE RESOURCE LIBRARY you'll find PARACHUTE, SCARVES, BEAN BAG and STRETCHY BAND Activities.
OVERWHELMED?
SUBSCRIBE to the FREE RESOURCE LIBRARY and get the FREE RESOURCES for SCARVES, PARACHUTES, BEAN BAGS and STRETCHY BANDS.
Finally- Choose 1 way that really resonates with you and go with it. Later you'll find that you will integrate more movement activities with scarves that fit your teaching style.
  I really want MORE TEACHERS to use CREATIVE MOVEMENT in their classrooms. I KNOW that they will help their students by getting their students moving!
I'd love to hear how you've used any of the eight ways to use scarves in the classroom.
YOU'LL WANT TO CLICK HERE to SUBSCRIBE to the FREE RESOURCE LIBRARY to get the SCARVES, STRETCHY BAND, BEAN BAG AND PARACHUTE FREEBIES. You'll also receive a monthly free resource and weekly newsletters with more tips and tricks you can use in your classroom today.
Please share this post with your friends!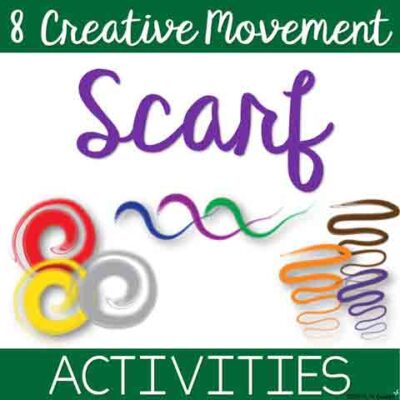 CLICK HERE TO GO TO MY PINTEREST BOARD FOR SCARVES