Ho! Ho! Ho!  It's time for some jinglin' December Rhythm Activities!
DECEMBER RHYTHM ACTIVITIES
December Holiday Elementary Music Class Lesson to practice basic rhythms. Whole note, half note, quarter note, eighth notes joined, sixteenth notes joined are all covered in this video on December rhythm activities.
Begin with body percussion!
Try these actions:
Snap for eighth notes
Pat for quarter notes
Clap for half notes
Stomp for whole notes
REVIEW THE RHYTHMS
Use the video to introduce or review basic rhythms during December music lessons.
Ask your students to play the rhythms and say the words.
Use the guide sheet at the beginning of the video.
Practice the values a couple of times before continuing on with the harder rhythm activities.
PRACTICE RHYTHMS
Next, assign students percussion instruments and have them say and play the Holiday themed rhythms.
Try using small groups for each rhythm value.
Divide students into small groups and have each group play one rhythm pattern.
PLAY THE RHYTHMS
Finally, play the rhythms in small groups.
Get the Holiday Freebie Rhythm Cards to use in this activity.
You'll want to check out this Holiday Rhythm Activities Resource.
CREATE RHYTHM PATTERNS
Using the Free resource cards, students can create rhythms to use with your favorite holiday songs.
You can even use these cards with Boom Whackers and xylophones!
Or, students can continue the process by then composing melodies using the rhythm patterns.
GRAB these December Music Freebies!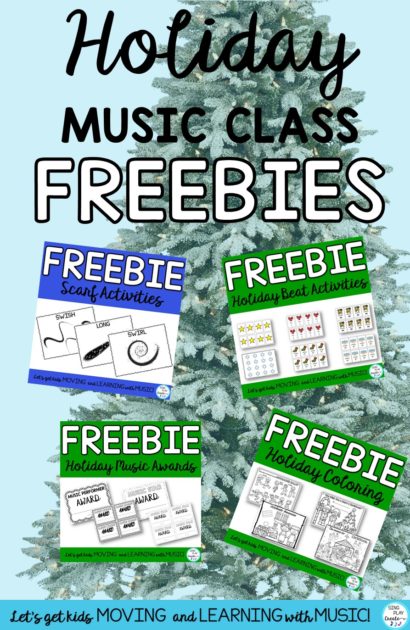 Check out this Blog post for station activities!
I'm hoping these December rhythm activities will keep your students jinglin' all the way to the holiday!
Please share this article with your friends!