Looking for a fun Ocean or Under the Sea movement activity? Your students will love the swishing, swooshing, wiggling, and tossing scarves with ocean animal friends.
Connect learning in your ocean science and literacy units using movement activities as brain breaks.
Or, use ocean movement activities as part of your music activities. Keep reading to get ideas on how to correlate movement and rhythm activities.
SCARF MOVEMENT ACTIVITIES WITH OCEAN ANIMALS
SCARF MOVEMENT ACTIVITIES WITH OCEAN ANIMALS
Scarf activities can be fun brain breaks, movement activities and substitute lessons.
This resource includes a video with actions and music you can show to your students anytime.
It also includes Flash Cards that you can print out and use in centers and stations.
The presentation pdf can be used in google apps on computers, TV's, tablets and projected onto an interactive whiteboard or screen in your classroom.
Here are the actions your students will do during this activity:
1. Wiggle
2. swish
3. High and low
4. bounce
5. Here and there
6. spin
7. Toss and catch
8. swirl
9. swoosh
10. wave
11. Criss cross
12. Free choice
HOW TO USE THIS ACTIVITY
BUILD CLASSROOM COMMUNITY- As students play together, they will develop relationships. Scarf activities are an "individual" activity where everyone can do their own interpretation of the movements and there's no right or wrong way to do them. This kind of activity creates a fair playing ground for everyone. You can compliment and point out how each student is doing the actions. You can play copy cat or have some students showcase their groovy moves. Use this activity as part of your class meetings and then talk about how everyone moves differently, but we're all having fun and doing it together.
TEACH THE ACTIONS- Scroll through the video or the presentation and teach the actions. When I scroll I mute the music so that it doesn't bother students ears or make them giggle. That way you can use the video to teach the actions. You may want to demonstrate how you want students to move and help them define their personal space.
TIMING- Use the video for a minute or for the full length.
TRANSITION- Have students finished their work? Use 1 minute of the video as a transition activity.
Or, use the activity to help students move from desks to going to the library. Have them stand up 2 minutes early and play scarf activity- then line up to go to lunch or other activities.
BRAIN BREAK– Have students been sitting and need a brain break? You can use this scarf activity to help students stay focused. Students need brain breaks especially if they've been sitting for a while or testing. You can start the video at any time and let it run for the length of time you want the kids to have a brain break.
REWARD ACTIVITY- I use games and scarf activity activities right before a holiday. You can use them during the weeks you know students are more distracted and need help channeling their energy.
Overall, you'll find that SCARF ACTIVITIES can be a great addition to your teacher tool box.
WHY MOVEMENT ACTIVITIES ARE SO IMPORTANT
Here are just some of the reasons why movement activities are so important.
Help children develop gross and fine motor skills
Provide a brain break
Stimulate creativity
Provide an outlet for emotions
Help create social connections
Provide physical activity
MORE SUMMER MOVEMENT ACTIVITIES
FREEZE DANCE is a fun brain break and transition activity too.
Ocean Friends FREEZE DANCE can be viewed by clicking on this link:
DINOSAUR FREEZE DANCE
DINOSAUR SCARF ACTIVITY
Let's do the dinosaur scarf activity!
Nothing's more fun than a Scarf activity for your Preschool through 3rd grade students.
Whether in music class, P.E., or other classes, students love to SCARF ACTIVITY!
MUSIC LESSON ACTIVITIES WITH AN OCEAN THEME
Beach Rhythm Activities :Digital Drag & Drop Google Slides, Presentation, Video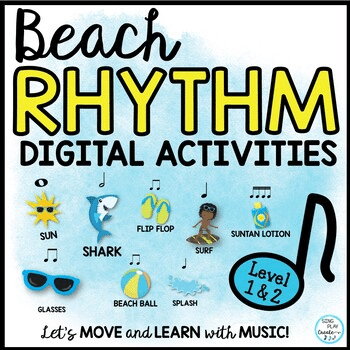 Music Rhythm Activities Level 1: Digital Google Slides & Presentation Posters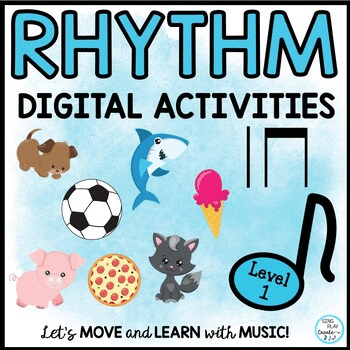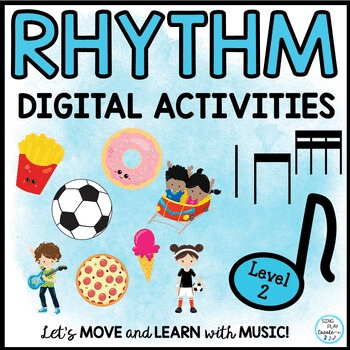 Related articles: SCARF ACTIVITY WITH OCEAN FRIENDS AND BUILD CLASSROOM COMMUNITY
I'm hoping that you get some fun ideas for your Ocean and Sea themed learning units.

Please share this post.