Free Holiday Elementary Music Education Resources
Welcome to the Sing Play Create website! I'm Sandra Hendrickson the creator at Sing Play Create and I'm sharing with you my December and Holiday Free resources you can download if you SUBSCRIBE to the FREE RESOURCE LIBRARY, and YouTube videos I've made for elementary music teachers.
You'll be able to teach music concepts using these Free resources in your elementary music classes.
BEAT & RHYTHM
Play a rhythm game with your elementary music classes. "Santa Needs More Elves". Get this Free activity with rhythm cards when you SUBSCRIBE to the Sing Play Create free resource library.
Holiday themed rhythm and beat flashcards and beat charts.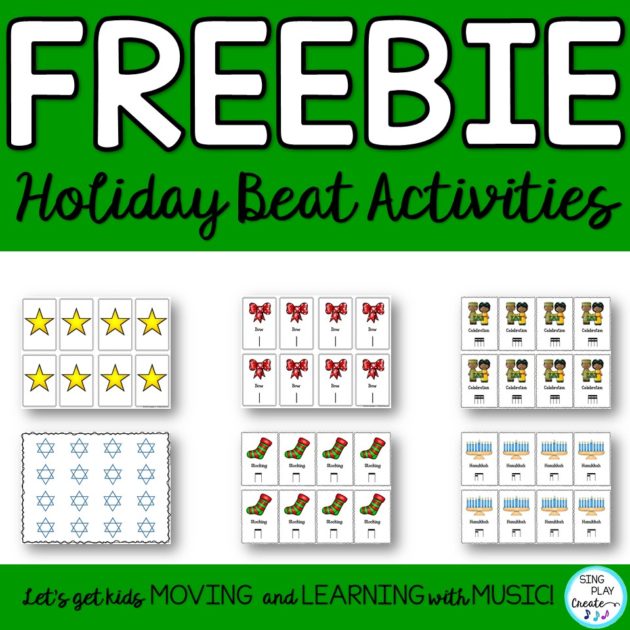 Play Holiday themed rhythm games in your classroom using this free resource.
PLAY RHYTHM STICKS
Music Lesson to play rhythm sticks to "We Wish You a Merry Christmas"
CONNECT TO HOLIDAY'S AROUND THE WORLD
Need some holiday coloring sheets? Coloring sheets for Christmas, Nutcracker, Kwanzaa and Hanukkah.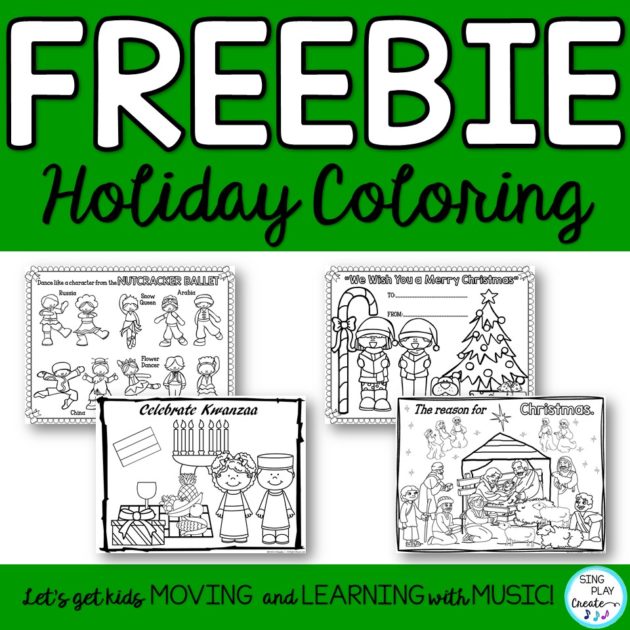 SING ALONG HOLIDAY SONGS
Sing along songs for the Christmas Holidays. Guitar and Ukulele chords included!
PLAY UKULELE AND GUITAR
Sing along songs for the Christmas Holidays. Guitar and Ukulele chords included!
MUSIC AWARDS
Holiday themed music awards for your holiday concerts and student achievement.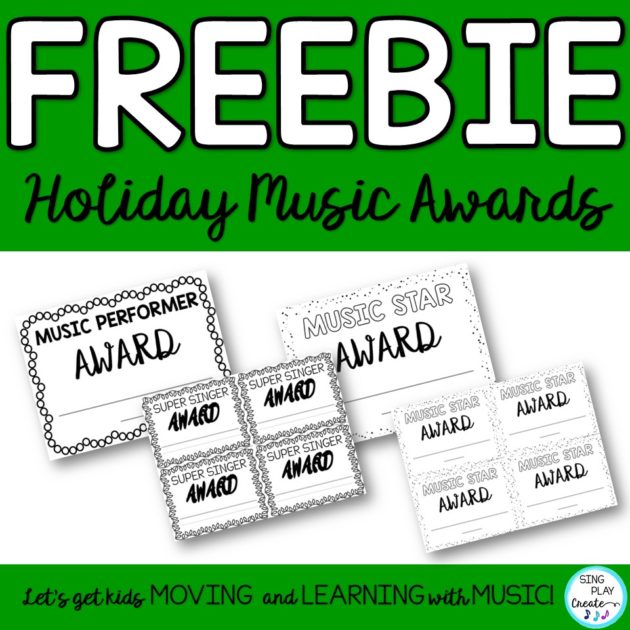 HOLIDAY MUSIC CLASS ACTIVITIES GUIDE
A variety of Holiday music activities you can use in your elementary music classroom.
SONGWRITING ACTIVITY "JINGLE ALL THE WAY"
New lyrics to "Jingle Bells". Students can write their own lyrics too!
Reindeer Movement Activity "Reindeer Beat"
Use this reindeer movement activity, "Reindeer Beat" for your Holiday brain breaks. It's a kids action song to get students moving to the beat. Use this elementary movement activity for your Christmas activities, as a brain break and Christmas movement activity.
Holiday Scarf Activity
Holiday scarf activity and Christmas brain break for elementary music activities in December. Brain Breaks with scarves are fun! This kids movement activity is for Elementary music teachers, PE, Homeschool, Virtual Classrooms can help kids stay active during the month of December with this fun Scarf Activity.
Holiday Rhythm Play Along
Play rhythm sticks with this how to video using the song "We Wish You A Merry Christmas"
Christmas Song "Red White and Green"
Sing a Christmas song about the meaning of the colors RED, WHITE and GREEN. Elementary Christmas Song "Red, White and Green" is a fun elementary choir song, or sing along song for holiday programs and concerts.
It's a Christmas holiday song that teaches about the colors of Christmas "Red, White and Green".
A fun and meaningful addition to your holiday concerts.
Enjoy this elementary music activity throughout December.
December Christmas Rhythm Music Lesson
Holiday themed rhythm activity for elementary music class. Learn whole, half, quarter, eighth, sixteenth notes.
Practice and play along!
Don't forget to SUBSCRIBE to the SING PLAY CREATE RESOURCE LIBRARY and NEWSLETTER so you can download all these resources for free.
Hoping your holiday music classes bring you joy and peace this year.