Successful First Day Music Activities. elementary music class, back to school music  successful first day music activities.
I want to be successful on the very first day of class! And, I'm sharing my experiences, games, songs and activities that have proven successful first day music activities.
There are many ways to make the first day fun for your students and to get them to know you and know the rules, procedures and expectations in the music room.
In this post I'm sharing FIVE IMPORTANT ELEMENTS to have successful first day music activities.
SUCCESSFUL FIRST DAY MUSIC ACTIVITIES
Honestly, I know that you'll be able to get some ideas from this post that you can use.
Mainly, you'll need to SUBSCRIBE to the Sing Play Create Resource Library and Newsletter to use these materials.
Let's get started!
USE PUPPETS TO WELCOME STUDENTS
I make up the puppets that are in the PUPPETS AND TEACHING TIPS RESOURCE LIBRARY FREEBIE
I use these puppets to welcome my younger students to music class.
BIRD-SING
DOG-SPEAK
SNAKE-WHISPER
GORILLA-SHOUT
I use the bird to sing the new hello song and have my students echo sing. I tell them I want them to sing like a bird and do a couple of fun vocal warm ups with them on vowel sounds.
I use the dog to use my speaking voice and introduce myself, my name and one more sentence about me. I tell them that I want them to use their speaking voice when talking to me and others in our classroom. That's how we'll show respect and kindness.
I use my snake puppet and whisper that it's important to whisper when it's time to line up or when coming into the music room.
I use my – I don't use my gorilla voice! I will show the puppet and say that he's the shout puppet, but that the only time I shout is outside. So please don't bring your shouting voice into the music room.
SING HELLO SONGS TO BUILD CLASSROOM COMMUNITY
Using hello songs at the beginning of classes will help your students build community, and get them into MUSIC LAND right away!
These songs are available on YouTube and in the Sing Play Create Shop with more materials.
Kinder
First Grade
Second Grade
Third Grade
Need more Back to school ideas?
Read this post for more ideas on songs and activities. BACK TO SCHOOL SONGS AND ACTIVITIES
USE SILENT SIGNALS AS DIRECTIONS
You can use these hand signals for a lot of different games.
You can have the students line up FAST/SLOW.
You can have them sit down and stand up FAST/SLOW
You can have them mix together in the middle of the room like a bag of skittles candies and get back to their spots FAST/SLOW.
Try using the STOP/GO signs to learn about things in the music room.
Have them find the SINK/WATER FOUNTAIN or something you want them to know in your room. It could be where you keep the markers, the reward tickets, the instruments, the computers.
FREE HAND SIGNALS for FAST, SLOW, STOP, GO and OKAY!
Tell them it's a silent game.
When you show the GO sign they can tip to towards that thing.
STOP on the STOP sign.
This is a fun way to get to know what's in your room!
Follow up with a movement activity where they need to follow directions.
You can tell them you want them to be good listeners and to follow your directions.
So, let's do this activity and see who can move with "me".
Students also love to hold the puppets and give the directions.
USE MOVEMENT TO HELP STUDENTS STAY FOCUSED
MOVE TO THE BEAT FREEBIE
Use this activity to help students learn to follow directions.
SITTING DOWN SONG
Use this easy to learn song to teach students to sit down.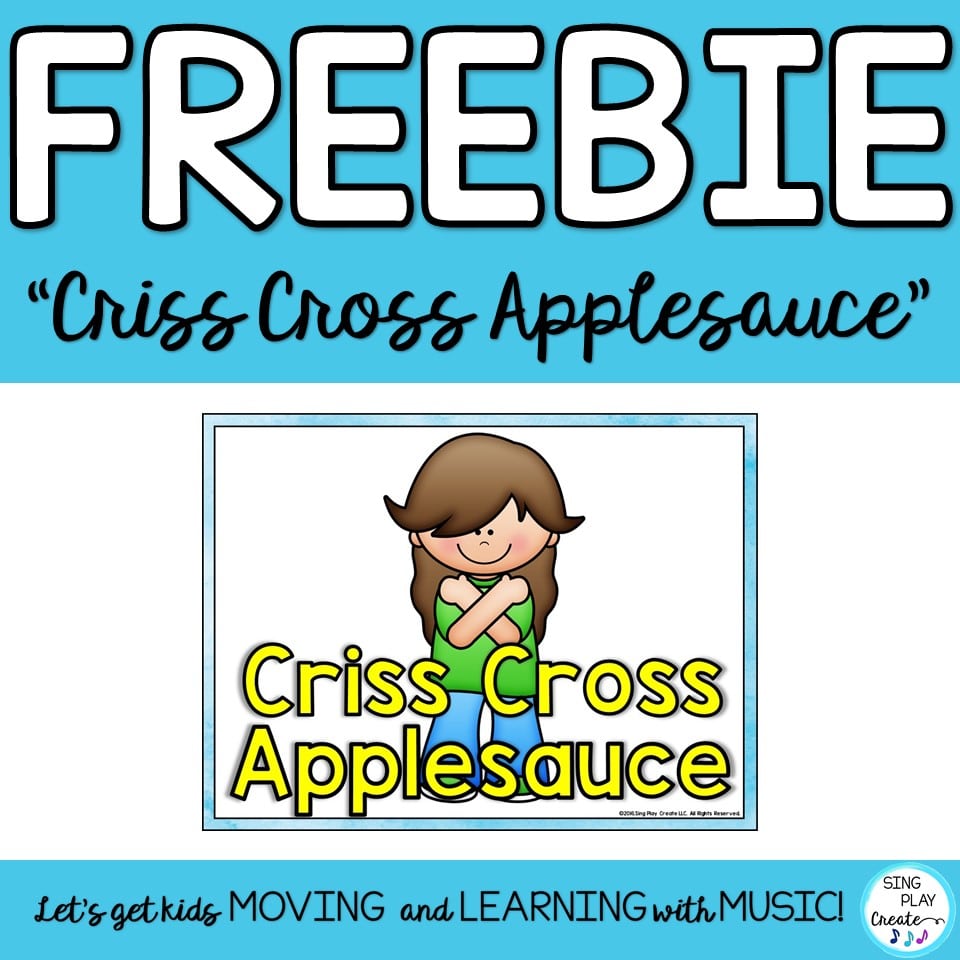 Criss-Cross Apple Sauce
Hands in my lap
One, Two, Three, Four
I Can Clap!
PLAY A GAME
I use a drum and play a slow beat, then speed up the tempo and everyone has to sit and stand up faster and faster until we are all falling down on the floor laughing because we can't keep up with the fast beat.
Then I do it to a slower beat to reinforce how you want it to be done in your classroom.
USE A FUN MUSIC ACTIVITY TO ENGAGE
Do a music activity to help students know what is going to happen in music class.
This one is perfect for Kindergarten and First Grade. It's available at the Teachers Pay Teachers Store
"HEARTBEAT" Move to the beat activity.
"KODALY MUSIC LESSON"
You can do a short Kodaly music activity with your upper grades. It's available at the Teachers Pay Teachers Store
Use it as a vocal Warm Up or practice and teach Echo Voice
USE GAMES TO TEACH RULES
I've found that kindergarteners need to learn about personal space during the first couple of months of school, and first graders can always use a good review.
I play this game. I teach them the song "GALLUMP WENT THE LITTLE GREEN FROG" (In the Free Resource Library in the HIGH/LOW ACTIVITIES LESSON)
Then I tell my students that the center of the circle is a pond and all the little froggies are hopping around in the pond.
But, when the music stops, or I hold up the STOP SIGN, all the froggies have to hop back to their spot which happens to be their own lily pad.
This game will help them LISTEN AND FOLLOW DIRECTIONS, DISCOVER WHERE THEIR SPOT IS AND USE ENERGY.
READ THIS POST for more tips for an amazing back to school experience. TIPS FOR AN AMAZING BACK TO SCHOOL EXPERIENCE
At the end of class it's important to offer positive praise.
USE POSITIVE PRAISE TO BUILD COMMUNITY
I use these reward tickets for the entire class.
Encourage the classroom teachers to collect them and when their class gets 10, they give their students a reward.
Both of these resources are in the FREE RESOURCE LIBRARY.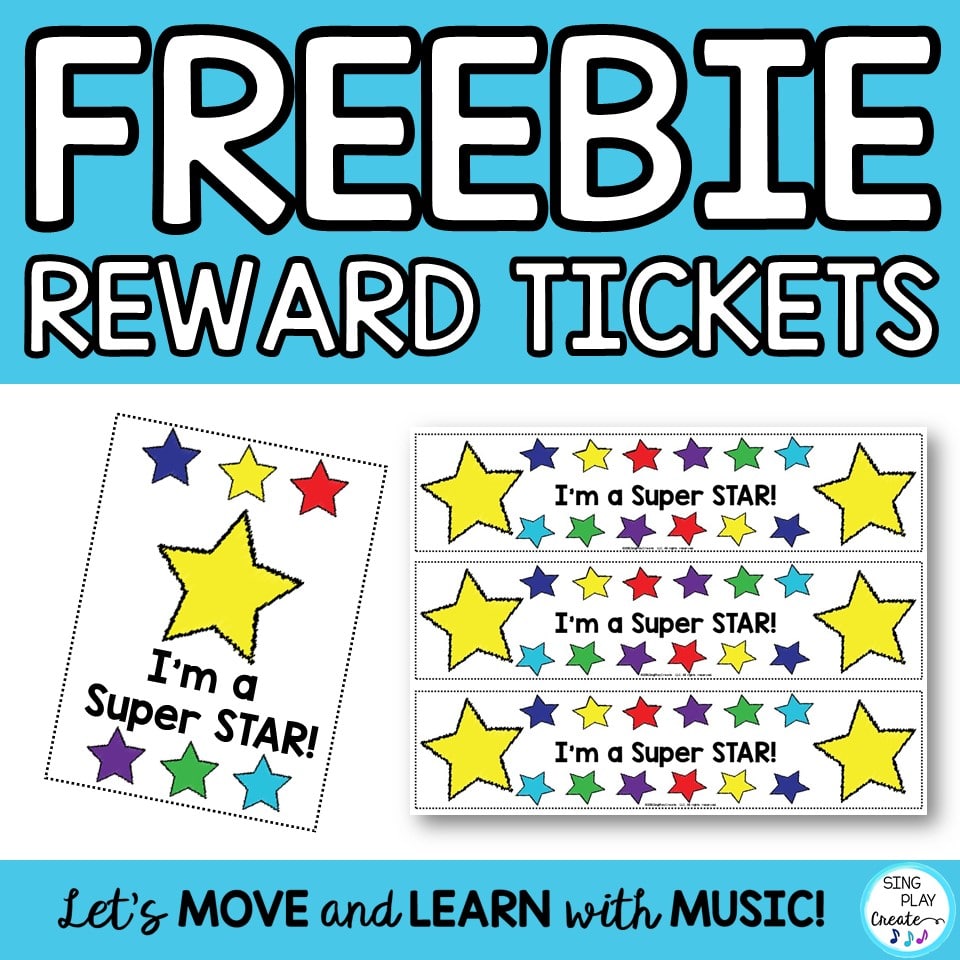 REWARD TICKETS AND EXIT AND REWARD TICKETS
Here's a recap of the FIVE IMPORTANT ELEMENTS
USE SILENT SIGNALS AS DIRECTIONS
USE MOVEMENT TO HELP STUDENTS STAY FOCUSED
USE A FUN MUSIC ACTIVITY TO ENGAGE
USE A GAME TO TEACH RULES
USE POSITIVE PRAISE TO BUILD COMMUNITY
I'm hoping that these FIVE IMPORTANT ELEMENTS to have successful first day music activities will help you this year, and every year.
Remember, you can implement one or two new things each year to fill up a bag of successful first day music activities.
Create a google slides presentation for the grades you are teaching. If you are using the same activity for K/1 , 2/3, 4/5/6, then you'll only need three presentations.
I find that it's a little easier on the VERY FIRST DAY to do this.
Don't forget to put in links and all the visuals in each presentation including audio files.
Now you'll have a working set of SUCCESSFUL FIRST DAY MUSIC CLASS ACTIVITIES that you can use every year.
I KNOW that you'll be successful using these ideas in your classroom.
READ THIS POST FOR MORE TIPS  MUSIC CLASS FIRST DAY ACTIVITIES
READ THIS POST FOR MORE FAVORITE ACTIVITIES-MY FAVORITE BACK TO SCHOOL ACTIVITIES
Here at Sing Play Create we're working to bring you interactive resources you can easily use in your classroom.
Be sure to SUBSCRIBE to our newsletter where you receive weekly tips and deals and access to the FREE RESOURCE LIBRARY.
Please check out the Sing Play Create YouTube Channel with over 100 videos of activities.
Connect with us on Facebook, Instagram, Pinterest and through email.
Let's Move and Learn with Music!