By now you know how much I love to use props in the music room. Lately I've been experimenting with the parachute. I'm sure I'll discover lot's of new ways to use it in my classroom as I "kid" test the activities. So, I came up with ten musical parachute activities for the music classroom.
Keep reading to get the FREE 10 Parachute activities list!
WHY PARACHUTES?
After you teach a couple of years, you start to get a feel for the patterns and sequences of behaviors in the school year calendar.
"Here we go again -" and "….it's the week before Holiday break", or, "the last six weeks of school are the toughest. . .", are common comments from seasoned teachers.
It's natural then, that I've seen a definite pattern to when I'll use creative movement activities  in the music classroom too.
Right?
WHEN TO USE CREATIVE MOVEMENT
Here's some of the times I'm most likely to use creative movement activities.
BACK TO SCHOOL- games and movement activities to welcome students and build classroom community.
TESTING WEEKS- when kids brains are fried and they need to burn out testing stress.
HEAT/SNOW DAYS- when kids are confined to the classroom for a long time.
SPRING- when the weather is perfect for playing outside.
END OF YEAR- when everyone "knows" there's only weeks left until summer break.
DAYS BEFORE/AFTER BREAKS- transitions back into the school routine.
REWARD DAYS- when students choose movement activities as their reward for filling up their behavior charts.
Maybe you don't use them at all?  That's OKAY! These are my "go to" activities for restless students.
You'll want to SUBSCRIBE HERE to the FREE RESOURCE LIBRARY because I've got several Creative Movement Freebies in there that you'll want to get NOW.
Definitely check out these other blog posts on creative movement!
Wouldn't it be great to use creative movement to teach musical concepts?  
YES!
So I came up with some ways that I could use the parachute to teach music concepts.  I think the obvious ones are HIGH/LOW and FAST/SLOW. 
So check out some of my ideas on how to use parachutes in music class.
PARACHUTE ACTIVITY MUSIC LESSONS
HOW TO USE PARACHUTES IN YOUR MUSIC LESSONS
STEADY BEAT
RHYTHM
PITCH
EXPRESSION
DYNAMICS
When you use movement as part of your music lesson it helps the students stay focused.
Create a flow in your lesson time where students are quiet and listening and other times when they are singing, laughing, playing instruments and/or  moving.  This will help you keep their attention. 
And, it really helps with classroom management. 
WHY?
There isn't

TIME

to act out!
Students who make poor choices don't get to do the "fun" part of the lesson.
Keeps students attention so they are less inclined to act out.
Gives students a goal. "Ok class, today we are going to get out the parachute!" (cheers and hoorays!)  "I'm looking for music makers who can be super stars in the music room today."  Who can be a super star? (My theme this year is Be a Music Super Star."
So help yourself out and help your students get wiggles out, focus and de-stress. 
Oh yeah!  And learn music concepts the same time. And-That's why I created ten musical parachute activities for the music classroom.  You can get the free resource by subscribing to the Free Resource Library. Here are the basic ideas of the games. 

10 MUSIC CLASS PARACHUTE ACTIVITIES
Here's an overview of the activities in the resource.
1- THE SOLOIST
One student is the "SOLOIST". All the other students are in the "CHOIR".
2- REPEAT SIGN
Students play this game to "Repeat" a rhythm or melody.
3-ECHO ME
Teacher or a student plays/sings melodic or rhythmic patterns. Students "echo" through parachute movements.
4  SHOW ME
Play or sing Melody patterns and have the students "show" how the melody moves up and down.
5 PLAY IT FOR ME
Make two circles of students to represent two teams. Students play melodies or rhythms to earn a chance to hold the parachute.
6 FERMATA
Students stand in a circle with parachute. They play a game to demonstrate a "fermata".
7 FORM
Students create different movements- tip toe, squats, side legs out, to show the Form of the music. 
8 MUSICAL STORY
Students show a story by using movements with the parachute to show the action in the story. 
9 BEAT IT
Sitting or standing and playing the beat with up and down movements.
10 THE CONDUCTOR
A game where students stand in a circle holding the parachute. Music or drum beat begins the game. One student (the "Conductor") tags students and asks them music questions.
Are you getting excited about using the parachute in your classroom?  It's VERY easy to use and I LOVE using it because HANDS are connected to the PARACHUTE.
Yay!
So, you'll want to check out the full resource at the store. 
And we have a BUGGY PARACHUTES ACTIVITY  for ANY TEACHER!
Music Class Parachute Activities is a Resource in the Sing Play Create TeachersPayTeachers Store.
And don't forget to download the FREE LIST of Parachute activities by SUBSCRIBING HERE.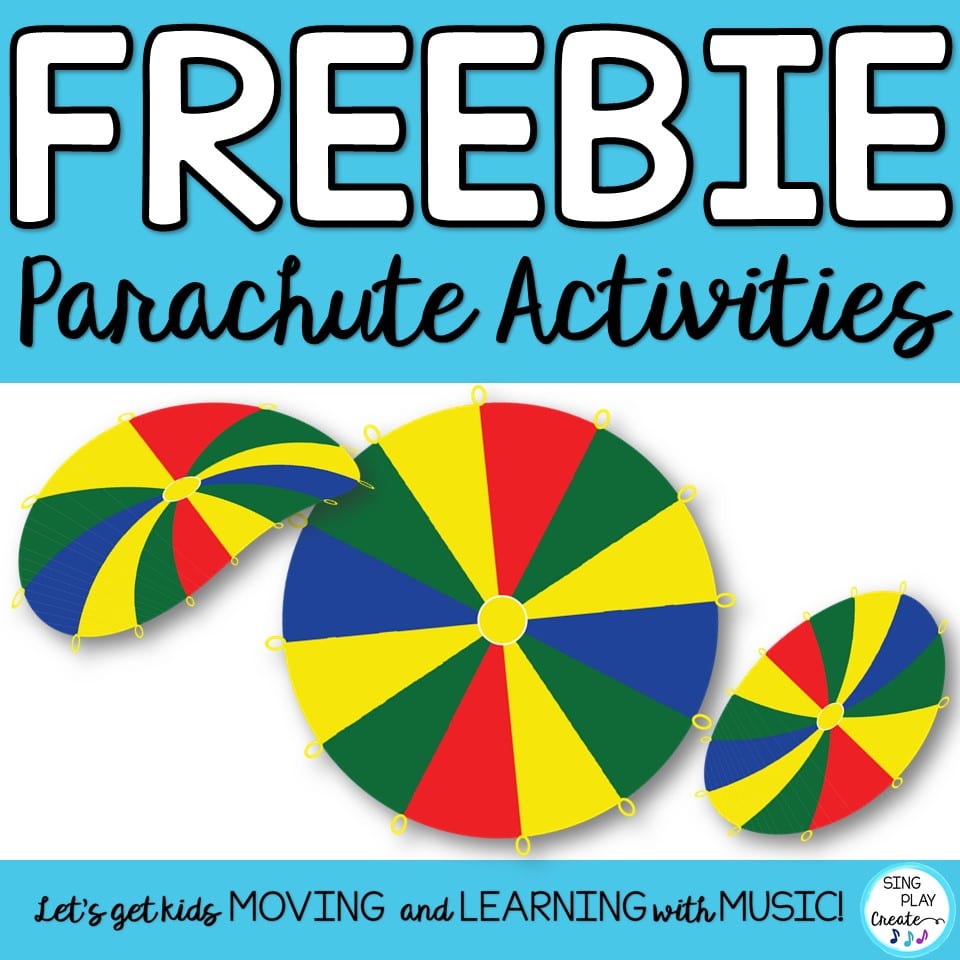 MUSIC CLASS PARACHUTE ACTIVITIES
Looking for a parachute for your music class?  You can purchase parachutes from
MUSIC CLASS PARACHUTE from AMAZON.COM
Looking for more creative movement activities?  
You'll want to read these blog posts that incorporate movement with learning!
"Innovative Connect-a-Stretchy Band Activities"
Hoping y these ideas will add a little "bounce" to your music lessons.


Please share this post!